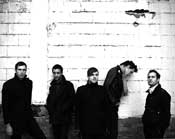 When Kenneth Boksa put out an ad on Craig's List to see if he might be able to reel in a drumming gig, he didn't expect that a year later he would still be part of a band with like goals and a signature style that fit his own. But that's what he got in return last year after an email from a White Hot Knife band member on the day after Easter asked him to come audition for a spot. The Chicago-based band was born about two years prior to the drummer falling into the mix and were in the midst of a lineup change. "They found Collin, who had played in another band, first," says Boksa, referring to the current bassist, Collin Patrick. "I hadn't played in a band for a couple of years prior to joining White Hot Knife so I put up a posting, which I thought was crazy." It turned out that Boksa was just what White Hot Knife was looking for and they wanted him in the band after his first audition.
Since Boksa fell into the regular lineup about a year ago, all five members have seemed to be evolving with the band's unique music style, but have also managed to stay on the same page the whole time. "In the beginning, I think we were trying to write and play together and we tended to be a little bit more pop. Now, we still stick to our White Hot Knife aesthetic values but I think the music is starting to get more interesting and maybe sounding a little darker," he says. Not wanting to get pigeonholed into a specific genre, the band has been growing from day one and makes sure that each song is an effort toward creating something distinctive. "At this point we have our own sound, which is good. I think we can be cast with genres that are popular right now but also plan to expand on our own. I think we're still evolving into what we want the band to eventually be," shares the drummer.
What that sound has become now is an excellent vocal ability by singer Joe Olivio smoothly strung over a musical sound (incorporating guitarists Ryan Aldrich and Paul Summers) that may fall somewhere in line with that of Bloc Party or The Killers. "I'm influenced by drummers like Stewart Copeland from The Police and bands like Interpol and the Editors, where the drumming is really tight and not brash," shares the newest band member. "I play more dance drum beats as opposed to rock drum beats, which I think was definitely one of the directions the band wanted to go in. In that aspect, we have a lot of similar interests."
The similarities that make White Hot Knife gel together are appreciated in the way that they continue to make music. "We definitely write songs as a complete band and I'd say each one of us puts into everything," says Boksa. That writing was spread over about five months or so to put together a six-song self-titled EP to get the band a little more recognition. "We recorded over the summer and are putting out this EP, though we are constantly writing new material in the hopes of putting out a full-length CD soon," he adds. As they develop newer material, the EP will serve as an introduction to the five-member band. You can get your very own copy by joining White Hot Knife at The Note on Milwaukee Avenue on March 29th for their record release show. If you can't make that date, check out other upcoming appearances by White Hot Knife on their official website or get a taste of their sound on their official MySpace page.
---
RELATED LINKS