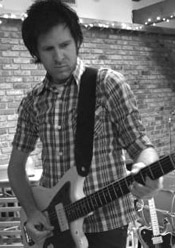 Christina Cassidy recently caught up with Cameron Emerson-Elliot, former guitarist of The Vines for a chat on Youth Group history and the long road to success.
It was 1998 when youth Group released their first single, ironically eight years on, the veterans of the Sydney music scene picked up the award for Breakthrough Artist of the year for their hit cover of "Forever Young" at this years Australian Record Industry Awards. The bands first big break came when they were signed to Epitaph records, Although the label is usually known for signing punk bands, they released Youth Groups album 'Skeleton Jar' in the U.S. " it was a great motivating thing to happen to us, and it also started getting a lot of people back here in Australia interested in what we were up to."
As a result Youth Group began to create a steady ever-growing fan base. It wasn't until the band was prompted to cover the 80's hit for German group Alphaville that they reached mainstream success. "It was recorded as background music for the OC initially, they asked for us to do a cover of the song especially for a particular scene." Youth Group applied their sound, reminiscent of The Byrds and Bob Dylan to the techno-dance track and although "it was released like all our other releases - Shadowland was out as a single just the same, it just happened that way that it took off."
No doubt the exposure "Forever Young" gave the group was the perfect platform for the release of their current album "Casino Twighlight Dogs." "It has been great to have put something out that has been given so much attention." Proving that they have much more behind them than a cover the harmonious tracks featured on the album immerse the listener with their fleeting feelings, anguish and recklessness. "Casino Twilight Dogs" seems to be a progression of your past works, only with a more 'experimental' feel to it which, according to Cameron is " of course always what you want to come across."
There is no doubt in my mind that your live performances have a deep hypnotic quality that keep an audience mesmerized. Youth Group really has an amazing ability to drag the audience into their shows and it seems effortless. Do you put this down to the years of experience you have gained or a certain natural ability to engage the audience?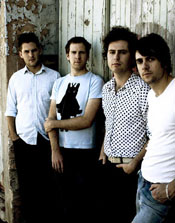 "Perhaps a mix of the two! Our live shows lately have definitely benefited from playing so many of late, but I don't think it would be enjoyable for any of us if it were all just cruising on automatic." Whatever the reason may be, Youth Group are no strangers to playing live with experiences in to performing at smaller venues like the Annandale hotel and Manning bar to much larger venues such as the Entertainment centre. Which do you prefer? "It is really nice to have a mix of both, and I think we would regret losing either kind of gig if it ever came to that. Though I certainly hope it wouldn't..."
You were recently granted the honor of supporting act on the recent Coldplay shows that must have been an amazing experience. What was your favorite show on the tour? "For me it was the first show in Brisbane. Just coming out onto that stage in front of a really excited and welcoming crowd was amazing and unforgettable." Esquire magazine in the U.S recently stated that the Youth Group "is that good, and this record's that warm... better than anyone else since, well, since that Coldplay Guy." Any thoughts? "That's a huge compliment, unimaginable. I'm stoked with that."
After such a long and eventful journey where do you envisage youth Group in five years time?
"Putting out our seventh record. Can't say what it is called yet, but we will be sure to let you know when we get there."
Camerons' words of wisdom for bands that are struggling?
"Now you have started just keep going with it."
---
RELATED LINKS