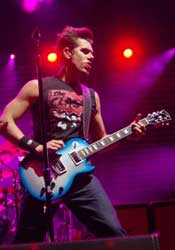 A show that started with the antics of Snoop Dogg, ended up being one of the better 311 shows I've ever seen! Snoop-a-loop got the crowd up and moving just before a monsoon of rain rolled over the First Midwest Bank Amphitheater temporarily quieting people down. The masses were quickly back to their feet and forgot all about the rain still pouring down when 311 took the stage and started off with 'Beautiful Disaster!' The first song showcased the usual meeting in the middle of the stage by Nick and Tim while practically holding their two guitars face to face, and playing the pre-chorus guitar riffs.
Even though 311 has toured with some really off-the-wall acts, somehow Snoop fit the bill perfectly! 311 has a few hip hop undertones to their music, so it was an easy transition from one artist to another. A show that featured nothing unusual, not even an appearance from Snoop at any point during their set, it was still a great show, because that is the only way that 311 knows how to put one on! The buzz that is in the air when 311 starts to do their thing, isn't something that many bands can sustain for more than a tour or two. There is a constant charge within everyone in attendance no matter when or where they take the stage
The attire and hairdos were slightly different than what most 311 fans are used to seeing, but looks that all seemed to fit the guys quite well. Nick was rockin a sleeveless Clash tee, Tim was sporting a sweet Mohawk, Pnut had his freshly shaved dome showing, and SA and Chad were showing off their usual attire.
For guys that are 'getting up there in age,' they still provide plenty of energy and emotion in every song they play. With a perfect mix of new and old songs, the guys were able to satisfy a decent sized crowd, even though they have not released a CD in 3yrs! 311 has such a loyal fan base worldwide, the lack of a brand new disc does not affect the enthusiasm of the crowd... they are still up for jamming to some classic 311 tunes.
It appears that the guys from Omaha will go through what some would call a painstaking process of making another studio album, starting that process back on May 1. No major vitals of the new disc are available, but it is said to be released sometime in the spring of 2009. They had decided to record the first half of the album prior to starting this summer tour, and finishing the second half after the tour concludes. It will be interesting to see if songs on the album have a different feel to them because of being recorded at different times.
I look forward to seeing what new endeavors 311 will take on in the future including how long they will continue to tour, how many more albums they will release, and whether or not they can keep their large fan base coming back for more. That was a silly question; no doubt that the avid 311 fans will be excited for any direction the band decides to take!
Set list:
Beautiful Disaster
Freak Out
Freeze Time
Full Ride
You Wouldn't Believe
Taiyed
Love Song
Misdirected Hostility
Creatures (For A While)
8:16 AM
Applied Science*
Running
All Mixed Up
Hydroponic
Amber
Flowing
What Was I Thinking?
Down
Encore:
Omaha Stylee**
Beyond The Gray Sky
Feels So Good<
---
RELATED LINKS