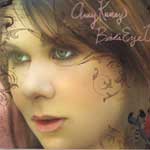 Amy Kuney takes flight with Bird's Eye View
Singer/songwriter/pianist Amy Kuney scores a perfect ten on her debut Indie CD release -- Bird's Eye View. Talk about some real catchy lyrics; Amy pours out fierce angles on each song with her fresh and at times seductive vocals. The CD kicks-off with Simple Things -- as Amy sings: It's a beautiful morning/It's the Simple Things/That make us feel at home. This song showcases dynamic rock grooves and Amy shows-off her powerful vocals. And songs just keep getting better from here. Other must listen to songs include Angel Tangled in the Telephone Lines, Time Machine, and the hook driven popster song Would You Miss Me. Best lyrics on the CD and piano power has to go Love is Trippy.
The over-the-top talents of Amy Kuney are enhanced beautifully on this ten track CD. Grab a copy and you will be entranced.
For more Amy information check out: www.AmyKuney.com, www.myspace.com/amykuney or go to iTunes.
---
RELATED LINKS