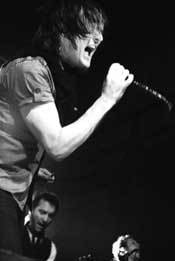 Before seeing Anberlin on tour this time out, I forgot just how much energy and excitement they bring to each one of their live shows. Every time they perform, whether it's a smaller venue like the HOB Chicago, or a main stage at the Vans Warped Tour, they bring the same intensity and give all their fans the best show they know how. Anberlin was already a band of very talented musicians, but they continue to add guys to their group that could help take them to new heights. Former Acceptance member Christian McAlhaney made the roster of Anberlin and will be playing guitar for them. Another former member of the band Acceptance is Kyle Flynn, who will be helping out on this tour with keyboards, acoustic guitar, and some background vocals. It's not a bad thing to see a stage jam packed with great musicians all coming together to make some great live tunes.
Anberlin is celebrating the release of their newest album called New Surrender on this current tour. According to their PR group, Universal Republic, Anberlin sold 36,000 copies of New Surrender in its first week after release. This put the band's album at #13 on the Billboard 200 chart.
The new disc doesn't stray too far at all from the usual Anberlin sound, which is a good thing. They have put out a great 4th album, and this tour should create significant buzz about the new songs heard on tour. It seems that Anberlin and company think that A Feel Good Drag will be 'the big hit' that will take them to knew heights, but the re-recording of an already pretty popular song, they aren't providing the wow factor that is needed with the first single of a new disc. New Surrender is a really good disc, even better than their last release Cities, but we'll just have to wait and see if the lack of a radio-friendly hit will affect their rise on the charts.
One of the highlights of this Chicago show was when they pulled out the acoustic guitars for a few songs in a row -- Inevitable and Cable Car. The guys did a great rendition of each song, and one that the crowd felt deep inside. Anberlin had on their set list that they were going to finish with Godspeed, but ended up sort of lulling the crowd away from the HOB by playing Fins instead. It's a great song and was so glad to hear it live, but not the best song to leave everyone with. Usually they would provide some punch with the last song, leaving you wanting more.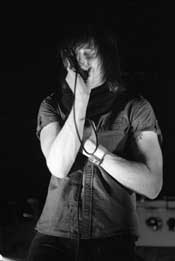 Overall, Anberlin comes through with a solid live performance, and a pretty damn good CD to leave us with for the winter months. I'm looking forward to seeing them again soon when they will be playing more of the new tunes. At this show they got to 4 new songs, all very well received. When Stephen had said something about the new disc early on, many in the crowd acknowledged him with a loud scream. Looking around throughout the HOB during new songs, it seemed that many already had the new stuff as they appeared to be singing most of the lyrics.
Anberlin's touring will keep them busy through the end of the year, and into the beginning of 2009 promoting their newest disc, New Surrender. While Anberlin is mostly done with the US through the end of the year, they will make some select stops at US cities in the midst of their 'Canadian tour.' Right now they are playing in England, and after the Canadian portion is over with, they will head to Australia for a few shows. Keep an eye out for when Anberlin makes it back for another US tour, it's one to not be missed.
Set List:
*Disappear
Friendship
Paper Thin
Day Late
Adelaide
Dismantle
Inevitable
Cable Car
*Retrace
Hello Alone
*Feel Good
*Resistance
Fins -- (Godspeed listed on set list, played Fins to finish set)
(* - songs off New Surrender)
---
RELATED LINKS