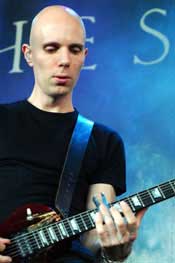 Billy Howerdel is a trick of all trades in the music industry. He started out as a lighting technician and then turned into a guitar technician. From his time out on the road he became friends with TOOL frontman Maynard Keenan and the two collaborated to make the band A Perfect Circle. Ashes Divide is Howerdel's first solo project. With the release of 'Keep Telling Myself It's All Right' Ashes Divide joined the Projekt Revolution summer tour supporting Linkin Park. I had the chance to talk with Howerdel on the third stop of the tour in New Jersey.
How is Projekt Revolution 2008 going and how is the crowd response?
Tonight will be the third show so we only had two so far. It has been good. The first show in Boston had more people than yesterday's show in Pittsburg which had a pretty thin turnout. There were maybe a hundred people in the pit, a hundred spread out in the seats and the rest were on the lawn. I saw people going for it in the lawn though. At times like yesterday I try to focus all my attention right to the front.
You have been around a lot of different type of music. What made you choose this type of sound for 'Keep Telling Myself It's All Right?'
It is really what comes naturally and honestly to me. It's a refection of where I was at musically around 2006 to now. It really isn't anymore complicated than that. It is a combination of all the things that were influential and inspiring to me.
What was your inspiration for this record?
The inspiration really was to keep writing. In 2004 I played with A Perfect Circle at the venue we are at today. I was trying to figure out what I wanted to do with my time after that tour. Maynard Keenan went back to TOOL and made an album and went on another tour cycle. My next thing ended up being Ashes Divide. I didn't really know what it was going to form into. The inspiration back then was to take a crack at singing and do what I wanted to do.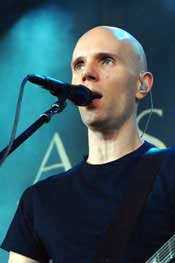 What was the recording process like for the record?
It started with me taking a few songs that I had pieces of and then Josh, who plays drums on the record, would come in and play drums on it. However, I then wouldn't see him for three to six months. I would just keep on working and have the songs evolve. I try not to finish songs too fast. I try to let them be bad and work them slowly to be polished where at that point they may be the final product. My process is to keep them terrible for a long time. (Laughs) I am confident that I can make it sound good at the very end.
What do you want the audience who listens to your record to experience or get out of it?
I hope people listen to it wearing headphones at least once to really get it. Ashes Divide is to be absorbed not to just be peripheral music. If it was a family member or close friend I would just give them the record and let them go on their way and let them listen to it themselves.
How did you pick who would come on tour with you as in the line-up?
I asked around with a lot of my friends and I found this guy in Las Angeles that helps put bands together. I found all of these guys that are out on the road with me now through him. I didn't know any of them beforehand. I am happy to say that everyone is getting along especially in these tight quarters you can see on the bus.
What are your future plans? Maybe another record and tour cycle?
Yeah that. All of that! (Laughs) My dream tour would have to be with The Cure. I have always wanted to tour with them.
I read that you are from New Jersey. What is your favorite place/restaurant/venue that is unique to New Jersey?
The PNC Bank Arts Center, where we are playing in a few days, is a great venue. I saw many bands there as I grew up. I am originally from West Milford which part of northern New Jersey. There is an Indian restaurant that I always brag about in Morristown. Indian is that one consistent cuisine that is good all over the world.
What do you enjoy most about music?
It is hard to pick because the writing takes so much patience to work through the whole process. Touring is military like as in you are told where to go, what to do, and what time to do it at. Also, you have to find a way to connect with the audience during the show. For me, about 51%, is the creative process but then when I am on tour I would probably say touring. It depends where I am and what I am doing when you ask me I guess.
---
RELATED LINKS