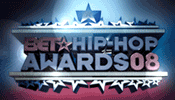 The third annual BET Hip Hop Awards took place at the Atlanta Civic Center in Atlanta, Georgia. The show aired on Thursday, October 23rd and was hosted by singer T-Pain. The original host, comedian Katt Williams, was replaced by Pain after what some are calling conflicts with BET, while BET says the hosting change was due to T-Pain and Katt Williams battling for hosting duties in a break dancing competition that Katt lost. Pain said of his victory, "I am so glad to be the host of the BET Hip-Hop Awards. It's an honor I intend to make the most of. Folks have underestimated me for years. In rapping, in singing and now in break dancing! Katt is my man and way more nimble than I am. But I relied on something that is dependable, has gotten me through the worst of times and has been paramount to my success." Despite the change in hosts, the show went off without a hitch and with solid performances and anticipated wins by some of our favorite hip hop artists.
Atlanta, Georgia has been home to the BET Hip Hop Awards for three consecutive years and stars ranging from music to television infiltrated Atlanta for the awards as well as the many parties that were happening for the BET weekend. The red carpet celebrity arrivals ranged from A-list celebrities to reality stars. Spotted hitting the red carpet were LL Cool J, Ciara, 50-Cent, T.I., Big Boi, Russell Simmons, Salt-N-Pepa, Nelly, Jim Jones, Kerry Washington, Ice Cube, Bow Wow, Plies, T-Pain, Young Jeezy, Young Joc, Pharrell, Soulja Boy, MC Lyte, Yo-Yo, the Lady of Rage, Keri Hilson, Derek Luke, Monica, Rocko, Melyssa Ford, Rick Ross, Busta Rhymes, Plies, Shawty Lo, D. Woods, the cast of the BET show Somebodies, the cast of Bravo's Real Housewives of Atlanta, Ronique Marshall (Keyshia Cole: The Way It Is), Attitude, Brutha, Haitian Fresh, Young Dro, Killer Mike, Chris (Hell Date), Ashley (Baldwin Hills), Tiffany Evans, Gorilla Zoe, Angel Lola Luv, Lil Cease, Maino, Ashley and Dru (College Hill), Sean the Pen Garrett, Jazze Phe, and Neffe and Frankie (Keyshia Cole: The Way It Is) to name a few.
A common theme of this year's awards was the upcoming presidential election, as artist after artist acted responsibly urging viewers and fans to vote on November 4th. Notably BET took heed to previous year's oversight by honoring the ladies of hip hop for their contributions. The ladies took to the stage for an unforgettable hip hop medley, featuring MC Lyte, Yo-Yo, The Lady of Rage, Salt-n-Pepa and Spinderella.
The BET Hip Hop Awards featured many performances and collaborations, with ATL native T.I. kicking off the show with "What's Up, What's Happening." Nas, Young Jeezy, Plies joined by Ne-Yo, and N.E.R.D. all hit the stage. While Common, Ludacris, Lil Wayne, Bow Wow, Soulja Boy and Rick Ross all contributed to the success of the show with performances of their current hits.
One of the biggest winners of the evening, Lil Wayne, who has been dominating the music charts this year, was nominated for twelve awards and was named MVP of the Year and the Alltel Wireless People's Champ. Lil Wayne, surprised the Atlanta crowd while accepting his Lyricist of the Year Award, when he stated, "I got a son dropping any day, pray for me."
While, there were many highlights to this year's show, Russell Simmons was honored for his contribution to hip hop. LL Cool J presented him with the "I Am Hip Hop" Icon Award. The award is presented to an individual who, during his or her lifetime, has made notable contributions of outstanding significance to the hip hop community.
Overall, the hip hop community stepped up this year with performances, highlighting how they are giving back to the community and using their voices to urge people to vote.
---
RELATED LINKS