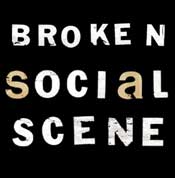 There was a hum of anticipation outside The Metro as fans began forming a line to see Canadian supergroup, Broken Social Scene -- BSS for short. Although the doors opened around 10 pm, no one got through the doors until a little after 11 pm, supposedly because of soundcheck problems. I was so pumped about seeing BSS live that I didn't notice two of its core members, Brendan Canning and Kevin Drew, hanging around outside The Metro shooting the breeze with fans. That was an unexpected, but nice surprise since I had come to think of BSS as high-flying baroque rockstars of the North.

Once inside The Metro, I made a beeline for the auditorium so I could get as close to the stage as possible. Brooklyn, NY's Yeasayer opened the show. I had heard of them before, but hadn't had a chance to listen to their debut album, All Hour Cymbals. Seeing them live was the best introduction I could possibly dream of. Their music is part gospel, part blues, part primordial drumbeats, part sounds from the netherworld. These seemingly disparate parts came together beautifully during their live set, compelling the crowd to jump, sway, and pump their hands in the air, however the spirit of the music moved them.

I was glad to see the members of Yeasayer get as enthused about their music as the crowd. Lead vocalist/keyboardist, Chris Keating twitched and stumbled through each song as if possessed by some higher spirit; guitarist Anand Wilder fell into an impromptu duck-walk a la Chuck Berry; and bassist Ira Wolf Tuton screamed into his mic with ear-ringing conviction as he spun out unbelievable melodies on his bass.

The boys of Yeasayer electrified the air with their music, sending ripples of cheering and hooting through the crowd at the end of their set. They energized the crowd, paving the way for BSS to take the stage.

After a short instrumental warm-up, BSS broke into KC Accidental from their much-lauded You Forgot It In People album. The first few bars of discordantly melodic guitars seemed to release a pressure valve in the crowd. I cheered and screamed with everyone else until I forgot about the hour-long wait in line, my aching feet, and the grumbling of my near-empty stomach.

The band offered up a smorgasbord of material during their two-hour set, guaranteed to satisfy die-hard and casual fans alike. They rocked out (KC Accidental), crooned (Lover's Spit), and even displayed a penchant for reggae rhythms with a song off of Brendan Canning's latest album, Something For All of Us.

And that's part of the magic of a BSS show - they know how to read a crowd; whenever the crowd seemed keyed up and fit to burst from a song, the band would fall into a gentle instrumental to cool the sweat off their backs.

Seeing BSS live also gave me a renewed appreciation for how versatile the members are. Kevin Drew was just at home with a guitar as he was with a synthesizer or a set of drums; Brendan Canning switched from guitar to bass and back without hesitation (he even took over lead vocals for a song).

Highlights include: their rendition of KC Accidental, Amy Milan's childlike singing on Anthems for a Seventeen Year Old Girl, Kevin Drew manning the keyboards to sing a sobering Lover's Spit to a respectfully quiet crowd, and the man in a pink bunny costume who took the stage from time to time (BSS's mascot, maybe?). Oh, and let's not forget Amy Milan letting people sing into her mic during a song.

BSS is definitely a band to see live, in a small venue like The Metro, if possible.
---
RELATED LINKS