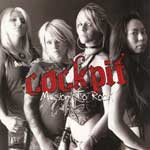 Party hard rock is back with a fresh, straight up ass kicking CD from the gals in Cockpit. These girls have taken over where the original Vixen line-up ended. The CD kicks off with Mission To Rock with lead guitarist Alicia Blu swinging through metal riffs and lead singer Linda Lou singing lyrics like; On A Mission To Rock/Get Out of My Way/On A Mission To Rock/Only The Brave Should Stay! The power continues with the heavy hitter At a Loose End. Drummer Rachael Rine and bassist Terrii Kiing round out the band with sizzling beats and will keep your heads shaking and feet pounding with the beat. White Flag is the best song on the CD with super harmonies and catchy lyrics. White Flag was featured on CMT's Chopper Challenge series. Shot In Hell and Gun For Hire wind up the CD and both songs are strong contenders and show-off the power of Cockpit.
Check out Cockpit: www.myspace.com/cockpit or www.ilovecockpit.com
Take a ride with Cockpit. I guarantee this is a mission you won't wanna miss!
---
RELATED LINKS