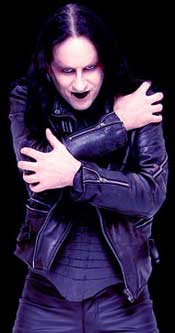 Cradle of Filth's following has endured a heady slew of personnel changes over the years -- and to some of these fans, Dave Pybus' entry into the band might have been their first exposure to this multi-talented musician. But Pybus has been around and worn different musical hats since the late 1980's.
Pybus' first two bands, Anul Death and Darkened, helped form a bond with Gary Querns, the drummer he played with in both those bands. Together, Pybus and Querns formed Dreambreed in 1991, and over the next seven years the band undertook a studio session each year -- resulting in the recording of over 30 original tunes.
Although, since Dreambreeds' untimely demise in 1998, Pybus has moved on to first play bass with Anathema and then with the big boys of shock-rock, Cradle of Filth, people haven't forgotten about Dreambreed. As a matter of fact they've been hungry for more even a full decade later - prompting the re-release of the seven-song demo Misery Sessions.
When I knew I'd be talking to Dave Pybus I'd mentioned so to Anthrax guitarist Rob Caggiano. Not only a metal guitarist but also a producer, Caggiano has proven in a relatively short period of time that he's a force to be reckoned with on either side of the mixing board having produced - amoung other acts - two Cradle of Filth's releases Thornography and Nymphetamine.
I'd asked Caggiano if he had anything he wanted me to relay to Pybus for him: " Yes...tell him I love him," he laughed.
When Pybus and I began our interview, I gave him Caggiano's message to which he responded: "Awhhh." Then went on to say, "We're obviously good friends because we've done a couple Cradle records in the past together."
I'd asked Pybus if he'd like for me to return the favor. Pybus replied with a chuckle: "Yeah, tell him to fuck off."
Boys will be boys - even when they are in mega-rock bands.
Then Dave Pybus and I got down to business.
---
The re-release of Misery Sessions on Pybus' own record label, Sixsixsix Records, was limited to 666 copies. The re-mastered, seven-song demo also includes two never-before-heard Dreambreed tracks from 1995. We asked Pybus how all of this came about.
" When Dreambreed was an active band back in '97, we were kind of a three-piece that was playing out and doing shows and things, and we were recording at the same time. And as time went on we kind of disbanded -- not officially broke up -- we just went on to do other things; I joined Anathema and Gary [Querns] kind of gave up playing music, and Duncan [Patterson] went on to do his own thing. And the engineer, who's Jamie Cavanagh and now plays bass guitar for Anathema, I thought he was the one who had the masters. And I lost contact with them guys when I left Anathema for a few years. And I always wanted to put the record out I just had to wait for the right time. I had to start making a few phone calls and I couldn't really get in touch with Jamie directly at first and then I got his email address and we got in touch. And he said he hadn't got [the recordings], so I didn't really know where to go from there. He was very active in wanting to re-master it, but we couldn't find the actual - what you call ADATs - which you could re-mix everything, but we couldn't locate them so I didn't know where they were. Then it was at a friend's house, the last place we ever recorded, and he managed to dig them out from somewhere and we'd re-mastered them from there. It took me maybe two years to get to that point."
Pybus, soft-spoken and polite - who doesn't at all sound like his persona in Cradle of Filth looks, went on:
"So it was always in back of my mind that I wanted to find it -- I know it sounds really slack," Pybus chuckles, "But as time went on I'd moved towns and people moved along and things got lost. I've actually got records [that are] older, from farther down the line, it was just this one tape I didn't have. And since Jamie was the engineer and he wanted to re-master it he kind of kept hold of it. And he left home for a few years and then he came back, I don't know where he ended up. It's just a shame because we couldn't fully remix it, but I think when we were going down the line of re-mastering it, we thought, 'Oh, that's sounds a little bit out of tune,' or 'That could have been better,' and we were thinking if we carry on doing this then we're just going to scrap it and re-record it and that was not really an option. I kind of drew the line at it's got X-amount of quality to it, it's like an old movie -- you can't bring it up to date, we're not George Lucas."
So the end result is truly a time-capsule in a way?
"Yeah, and it's kind of weird now that I'm pushing it, and people think I'm singing again and I haven't sang like that since that recording. And people say, 'Are you going to play a show? Are you going to go on tour?' And I say, no, you don't understand, this band broke up 10 years ago. You know what I mean? And I'm just putting it out now."
The role of vocalist isn't the only aspect of Dreambreed's dynamics that is throwing listeners off -- Pybus is actually the guitarist of Dreambreed, rather than bassist as we've come accustomed to seeing him with Cradle of Filth.
"Actually I did do a little bit of singing on the last Cradle album, and I was very surprised that Dani [Filth] wanted to credit me for that. But I was actually singing with Rob [Caggiano], it was me, Rob, and Dani."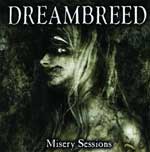 Singing however, was a role Pybus had taken on more out of necessity rather than as a calling.
"I was not that comfortable being a front man. The only reason I sang initially is because our old band's singer left and no one else had the balls to try it - which is how a lot of other bands start. 'I ended up playing drums because all I had was a drum kit,' or 'I played guitar because I was the only one with an acoustic guitar available,' you know -- that's how it happened back in the day, people were just kind of trying things out. I never was really comfortable with being a front man, but having the guitar was kind of a cover for that."

Pybus continues: "I have some ideas to record some things where I will be singing again but I don't know that I'd put them under that same band name. I'm not really sure what to do until I've got it in a finished form. When you finish a batch of songs you're excited and get carried away on how to market the stuff and what you should do with it, but I'm not really at that point yet so it's sort of difficult to get excited about it right now. It's just some ideas in my head and with the engineer that I'm working with."
So it could be a completely new project?
"Could be, or it could be never heard," Pybus laughs. "This whole thing got generated from a fan demand. I always wanted to put it out but I've been selling the other Dreambreed release and that's been doing really well. And the people are always asking 'Have you got anything else?' 'Have you got anything more?' And a couple of these songs on the Misery Sessions were actually downloadable and people have said they wanted to hear more, and that's actually why -- it's been a demand really that I wanted to fulfill. And it kind of closes a chapter in my life where in '97, '98 it seems like I wasn't doing anything but actually I was. And this kind of fills that little gap."
Was it difficult at all switching roles from being primarily a guitarist to a bassist?
"The transition to bass was easy but Cradle of Filth's music wasn't. If you listen to Dreambreed it's like rock compared to Cradle which is extreme metal, so the style was completely different. To learn the songs and play fast -- so it took me awhile to grasp playing bass for Cradle. Now after years of practice and doing both, I wouldn't say that I'm better but I'm definitely more confident on both guitar and bass. I just recorded the bass guitar for the new Cradle album and I was asked by Cradle to do the guitars for a couple songs. I sort of demoed the guitar tracks for it and they said come to the studio and do the guitar, so I made it on a whole guitar song for a Cradle album -- which is quite big."
Does Pybus play any instruments other than the guitar and bass?
"No," he says solemnly. "I'd love to be able to play more piano. I can write on piano but I don't have the skill to impress anybody. When I was younger my parents were always very active in pushing us into music and I took up the trumpet and ended up playing it in the school orchestra. And that was cool, outside of kids ridiculing you because it's different -- kids pick up on everything. But looking back I should have really learned to play piano; that would have been more use to me now."
And how is the new Cradle of Filth album coming along?
"It's gone very well, it's pretty stress-free compared to past records where we'd been in there for months and gone over time and budget. Martin [Skaroupka ] 's very aggressive -- our new drummer - and he's only 25 so he's really pushed the album on the aggression side of it; he's a real asset to the band right now."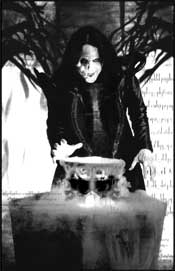 According to Pybus, the recording ease of this album is probably a matter of fewer cooks in the kitchen.
"It's just basically Dani and Paul [ Allender ] writing the music, the lyrics, everything. We've all had ideas, but 99-percent of it is kind of Paul's baby now. And in that way he's probably stressed out, but there aren't five people around him all stressed out. We're trying to stick to deadline and budge, and for the first time in a long time trying to deliver on time. It's very stressful, Rob will surely tell you," Pybus laughed. "It's about 95-percent done when we get to the studio -- there's no way we're going to pay 600-pounds a day when we're still scratching our heads wondering what should come next. But to be honest it's never finished until it's finished. Things can get changed last minute, you can drop a lead guitar part, you can add sing-over parts. It's recorded right up until the mastering. Even though it's like skeletons there it's still getting flushed out every day. We're not close minded; you have to be sort of flexible."
With this upcoming release being Pybus' fourth with Cradle of Filth, has he yet gotten used to the criticism the band receives for their evil and extreme image?
"It depends what they're saying. You either get angry towards it or you find it funny, it depends what kind of mood you're in I guess. We're not a very good band to go around getting offended when we've got the 'Jesus Is a Cunt' shirt -- there are laws against that now; there are certain things you can definitely not get away with. If we went to the merchandise company and said 'This is the t-shirt that we're going to sell,' I'm not sure if they would just refuse it, but it was done years ago when we didn't have anyone telling us what to do. I wasn't in the band back then but I remember it coming out and causing a bit of a fuss."
Are there ever any times when even the band wonders if they're going just a bit too far?
"Yeah, we do. We are our own biggest critics so we sort of check with each other what's cool and what's not. There are some terrible ideas; and I don't mean terrible as in bad but terrible in that we'd never get away with it. So we don't push it too far, but obviously the fans want us to be as edgy as possible. If we do a video that's got lots of blood in it, it's going to get banned and get no airplay. So we're probably going to go back a little bit and sort of do what we want in that respect. Management and the label obviously want us to capitalize on every aspect but if you've got a video that's been turned down it's not going to get played."

"But this is going back to before YouTube was really so big. You can even earn royalties off of YouTube now if you get X-amount of plays. So you can do a video that's as extreme as you want again because you don't have to rely on whomever -- you don't have to kiss as many asses. It got rid of the middleman, and I think that's good in one respect, but there is a lot of shit out there," Pybus laughs. "But if you have the official video that wasn't showing on a channel you can put it on your webpage and with MySpace you can make everyone aware of it. MySpace is a good awareness tool, it's not much more."
So what's next on the agenda now that the next Cradle album, Godspeed on the Devil's Thunder , is almost finished?
"Later in the year we'll have a short tour right before Christmas. I guess that's the next stage -- the album will come out, we'll do the press trips, then the tour and Christmas and then we'll come to America. And Chicago's the third biggest market for us, and I like it down there as well -- the people are cool."
Other than his musical ventures, Dave Pybus is also a Star Wars collector. When asked how long he's been into it, Pybus replied: "Probably the first week it came out," he laughed. "I guess I've been collecting ever since 1977, but I wasn't really a collector then since I was only seven and I didn't have that much money. But I still have things from back then. I'm not buying anything at the moment; I wait for something to catch my eye."
However, really only a fan of the original three films Pybus has sort of rebelled against the newer releases.
"I'm not into the new ones. I would go on tour and everyone would say, 'Are you going to go see [ Revenge of the Sith ] ?' as if they knew exactly what you were going to do, and I'm very anti-that. I always purposely do things that people don't expect. I said, 'Well I know I'm never going to go watch it -- one, because it's probably shit; well, I know its shit because everyone's told me it is. And two, because I've actually put money on the fact that I won't ever go watch it. So not only has it saved three hours of my life not watching it but I've actually made money doing it," he laughs.

"I've seen the first two but after you get over the wow of it all, they're very shallow. Something's missing. The gritty, horrible bits that George Lucas wants to change were the bits that made it cool half the time. It's too polished now. The dialogue is terrible, the scripting is terrible -- there are no cool one-liners, Han Solo and all that used to have some cool lines. Now it's all very obvious and silly."
Fortunately for music fans, Pybus plays with his guitars and basses much more often these days than with his plastic Storm Troopers.

And be it with Cradle of Filth, Dreambreed, or that next side project he's been tossing around in his head, we can only expect good things to come from this charming and talented rocker.

RELATED LINKS
---