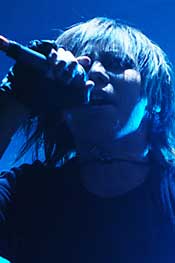 My sister and I arrived at the Asbury Park Convention Center over two hours early and were surprised to see a line for the Rockstar Taste of Chaos was already forming. It was not until we were in the catacombs of backstage that we saw how the line extended across the boardwalk of Asbury Park. This nationwide tour featured many popular American bands, but what made it unique was its integration of Japanese Rock bands. Avenged Sevenfold and Atreyu had a large fan following, but MUCC, The Underneath, and D'espairsRay were the Japanese bands that had a great turn out as well. Proof of this was at the JROCK signing where the line for autographs stretched from one side of the building to the other.
D'espairsRay has been gaining fans and recognition so I jumped at the opportunity to be involved in an interview with the vocalist, Hizumi. With the help of a translator, we briefly touched on topics from music to tour experiences.
How did the band start? How did you meet each other?
Tokyo is a great place for that. The other members were in other bands before we were able to meet.
Which US city is your favorite so far and why? How would you describe your US tour experience?
New York City because I like to shop.
What are some major differences of concerts/lives in Japan than in the US?
If I'm able to speak in English during the mc parts in between songs, it's pretty much the same sort of feeling and reaction.
If you remember one thing/event from this tour, what would it be?
When I go back to Japan the main thing that I'm going to remember is the people and crew on this tour and how it was made into a family. The tour is like one big family.
What do you think of the American music scene today and how would you compare it to popular music in Japan?
It seems that in Japan when things enter the American charts then they start entering the Japanese charts. What we are hoping is with all this JROCK coming over to the states, it will start influencing more people and becoming more popular.
What song are you the most excited to play today and why?
We usually make our set list right before we go on so we haven't decided which songs we're going to play yet. We're looking forward to playing all of them.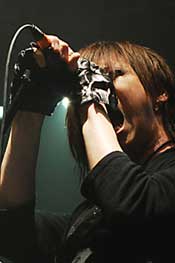 Which song do American audiences respond to the most? What song does your Japanese audience respond to the most?
I don't really notice that sort of thing. It really seems that the fans who come and watch really enjoy all the songs. Luckily! If they're having a good time then I'm having a good time. That's really all you can ask for.
What is in your cd player/ music player right now? Do you have a favorite musician or band?
Lately I've been listening to a lot of Linkin Park and Korn, but when you're around music all day the last thing you want to do is go and listen to some music so I haven't been listening to a lot of music lately. What's on my iPod right now is mainly Linkin Park and Korn.
If the world were to end tomorrow, what is one thing that you would want to do?
I'd like to play a live show.
Thanks again to D'espairsRay, our translator, and those who made this interview possible. Make sure to check their album, Mirror, which will be released in the USA along with a new single in May.
---
RELATED LINKS