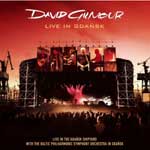 Some years back a friend told me that he learned more about life from Tupac Shakur albums than his actual parents. Following his statement was the seemingly inevitable question: who taught you life? Without a full understanding of what was asked I haphazardly replied, "my favorite band is Pink Floyd." Between owning Floyd's "studio" catalog and going to local laser shows every weekend for months at a time I knew that Pink Floyd's sound was truly my favorite, but it wasn't until I heard David Gilmour's 2006 solo album, On An Island, that I began to understand why.
Pink Floyd's music was the first to scare me. From the banshee screams that complete 1971's "Echoes"" to the squealing pig noises of 1977's "Pigs (Three Different Kinds)" drummer Nick Mason, bassist Roger Waters, keyboardist Richard Wright, and guitarist/vocalist David Gilmour, created some of the most unique music the world has ever known, and when Roger Waters went solo in the early 80's, the remaining members of Floyd were left with a legacy to uphold. Despite the success of 1987's A Momentary Lapse of Reason and 1994's The Division Bell, along with their record shattering world tours, most Floyd purists rejected the new sound, deeming it "Gilmour's Floyd," but no matter how it's labeled true Floyd fans can't deny the hypnotic power of inspirational ballads such as "High Hopes" and "A Great Day for Freedom," both on The Division Bell.
Upon the release of Gilmour's first solo record in nearly two decades, On An Island, Rolling Stone magazine gave it two stars claiming " [it] suffers from the tendencies that plague all of Floyd's post-Waters works: It's a crawling headphones record that puts germs of ideas -- leaden riffs, astral soundscapes, hazy psychedelia -- where fully realized songs ought to go." Obviously Mr. Christian Hoard, the RS journalist who reviewed this album, had no way of knowing that less than five months after his critique Mr. Gilmour would be performing this "crawling headphones record" in front of 50,000 people at the shipyards in Gdansk, Poland, the site where Poland's Solidarity movement" was established in September of 1980. Solidarity was not only an integral part of the Soviet Union's collapse, but it was also crucial to Poland's transformation from a repressive communist satellite to the European Union (EU) member democracy it is today. Invited by former President of Poland, Lech Walesa and Mayor of Gdansk, Pawel Adamowicz, to mark the 26 th Anniversary of the founding of Trade Union Solidarity, Gilmour, closing out his On An Island tour with this performance, was thrilled to have his first show in Poland commemorate what he calls "one of the most important anniversaries in recent European history." "The Gdansk shipyard is a deeply symbolic place and it was an honour to perform our music in such a historic space," admitted the ageless troubadour. "It was particularly exciting to have my friend Zbigniew Preisner there conducting the Baltic Philharmonic Symphony Orchestra and to be able to perform my album for the first time as it was intended." Hung above the stage, suspended on two giant cranes, were six, 16 ton screens, each focused on a band member and lit in a kaleidoscope of color and lasers by master lightsmith Marc Brickman. Performing alongside Mr. Gilmour were keyboardist Richard Wright (original founding member of Pink Floyd), guitarist Phil Manzanera (co-producer of On An Island), bassist Guy Pratt, keyboardist Jon Carin, drummer Steve Di Stanislao, and saxophonist Dick Parry, whose talent can be heard on the 1973 studio classic, Dark Side of the Moon.
"I was comfy numb myself with the 50,000 people after the show, having just seen one of my biggest guitar heroes play a full night of perfection," one concertgoer wrote. Marc Brickman, and his team, [also did] a fantastic job with the light show. All in all it was worth it to get to Poland for the weekend." Fortunately, those of us who could not make it to Poland in August of 2006 can now experience this marvelous event with the release of David Gilmour Live In Gdansk, a double live album that comes with a 113 minute concert DVD of the show directed by Gavin Elder. Besides visually stunning, Live In Gdansk captures the essence of David Gilmour's sound magnificently. Backed by Preisner's 40-strong string section of the Baltic Philharmonic Symphony Orchestra, Gilmour croons, "Let the night surround you, we're half way to the stars, ebb and flow, let it go, feel her warmth beside you," from On An Island's title track before unleashing a wicked guitar solo that mimicked the sound of something (or someone) crying in pain. Wright's piano added a layer of depth to the song's second epic guitar solo before returning to close out On An Island's "Then I Close My Eyes," with an unforgettable solo of its own, differing from the Robert Wyatt ending recorded at London's Royal Albert Hall for Gilmour's Remember That Night concert DVD. While the orchestral arrangements enhanced On An Island's overall live sound, no song got a more noticeable facelift than "Take a Breath." As the chorus played, string sounds heightened the guitar solo's emotional outpour, as well as enhanced Mr. Brickman's smorgasbord of visual stimulation which included smoke effects, strobe lights, and multi-colored lasers shooting in all directions. Halfway into "Take a Breath" haunting black and white images of military personnel flashed on the screen, reminding attendees how far Poland has progressed since becoming a democracy.
Available in several formats, David Gilmour Live In Gdansk is not only the first official live album to have On An Island material, but it also has the first ever orchestra backed live recording of Pink Floyd's "High Hopes," and "A Great Day For Freedom." People who get the two album/two DVD package are in for a real treat: extra live footage from various tour stops like the Mermaid in London, AOL Studios in NYC, as well as the famous Abbey Road Studios. For hardcore fans, this set also contains a section called "Barn Jams 2007," which is basically Gilmour, Wright, Pratt, and DiStanislao jamming at a random UK barn house in the middle of nowhere. With all these extra bonus features accompanying the concert DVD and double live album, buying this album should be a moral imperative for any fan of music, period.
The best thing about Live In Gdansk is that it not only celebrates the newest chapter of Pink Floyd's prolific legacy, but it also shows what an integral force David Gilmour and the late Richard Wright were to Floyd's most successful era. Some enthusiasts still believe that it was Roger Waters' sound and songwriting that shot Floyd to the pinnacle of stardom in the 70's, but after listening" to On An Island back in April of 2006, it was clear that David Gilmour not only embodies the heart and soul of Floyd's most popular work, but he remembers the secret formula to that special sound, and isn't afraid to share it with the world. Now, when asked about who taught me life I simply reply, "my four musical fathers, Roger, Nick, Dave, and Richard taught me life, but it's Dave who inspires me to live it." Thank you.
---
RELATED LINKS