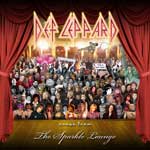 With having sold more than 65 million albums worldwide, Def Leppard has perfected making music for the masses, and on April 29th the band will be celebrating their first studio release in almost a decade. Def Leppard is back and hitting hard with their glamorously titled Songs from the Sparkle Lounge.
Kicking off with "Go" - a larger-than-life rock anthem - this is Def Leppard of today: a dash of 70's influence combined with the band's signature sound, and sweetened with a contemporary edge to brew a great rock tune.
On "Nine Lives" Elliott's voice shows a seasoned maturity without having lost any chutzpa. A solid, toe-tapping rocker but with a slight country twang to it due to the fact that "Nine Lives" also features Tim McGraw.
"C'mon C'mon" remains consistent with the sound of the opening track "Go," keeping this listening odyssey light-hearted.
Next up, as the title suggests, "Love" is an achingly tender ballad. Delicate and tender vocals wafting around a haunting melody, then augmented by a guitar solo worthy of making the heavy metal heyday proud.
More stellar guitar playing shines through the catchy "Tomorrow." This is a hit waiting to happen.
"Cruise Control" has got a sexy and gritty feel to it. And old-school Lep fans will love "Hallucinate" - it's fun and upbeat with a groovy flow.
"Only The Good Die Young" is a modern-day rock canticle. Followed by "Bad Actress" - another musical mover and shaker.
Alas, wrapping up Songs from the Sparkle Lounge are: "Come Undone" - an aural version of sensuality dripping out of your speakers, and the sly and powerful "Gotta Let It Go."
Even if you haven't been a huge Def Leppard fan in the past, Songs from the Sparkle Lounge is a solid, enjoyable rocker all on its own merits. There simply isn't one bad song within this entire collection of songs.
---
RELATED LINKS