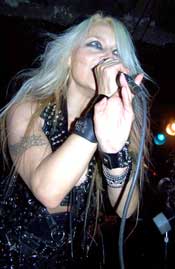 In Nordic mythology Freyja is described as a goddess of love, beauty and fertility. Blonde, blue eyed and beautiful, Freyja is the fairest goddess of them all. She is also associated with war, battle, magic and prophecy. Does such a woman exist? She did at the Annex Wreck room in Toronto, on March 25th, 2008. - Doro Pesch is the "Freyja" of Heavy Metal.
For 25 years, Doro's unique combination of fantasy goddess looks and a distinctive voice earned her the right to be seated at the round table with titans such as Dio, Ozzy, Lemmy, Halford, and the other great metal warriors. And, she is still incredibly beautiful; so much... that it is hard to believe this woman was the first female to perform at the Monsters of Rock in England in 1986!
She is a charismatic front woman, with all the right stuff, including a long-term band that are legends in their own right. The band has a synchronicity that works. Mixing solid rhythm, with the right amount of power they allow Doro to dominate and hold the audience in the palm of her hand. Clad in form fitting "I dare you to" leather, Doro was slaying dragons by the dozen as she tossed her flaxen hair, smiled, strutted and sang with finesse. The set was well orchestrated, an even the most die hard metal heads were being whipped into submission as she sang "Burning the Witches," "Earthshaker Rock," "You're my Family," Judas Priest's "Breaking the Law", "'Fuer Immer," "All We Are" and many more. They finalized with a 3-song encore, including "When East Meets West."Another battle won, and despite the rather light turn out, Doro and her band, came and conquered.
But, it wasn't over yet! They had one last encore to perform and they did it without instruments or a stage. They had a meet and greet for their fans at the back of the club. And, they stayed every fan got sprinkled with a little bit of magic; proving the test of a true warrior princess is the beauty in her soul. Doro is touring the US until April 17th, 2008.
---
RELATED LINKS