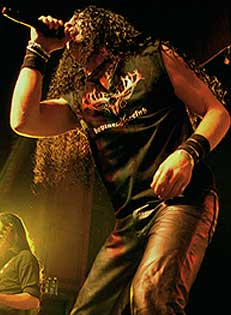 The first time I witnessed these guys live was during the Rockstar Mayhem Festival over the summer. As the one of the main acts on the main stage, I was very intrigued by their live unique line-up and approach to their performance which included intense guitar solos between both lead guitarists Sam Totman and Herman Li followed by the hallowing metal vocals of ZP Theart (Let's not shine the spotlight away from the other members- Dave Mackintosh, Vadim Pruzhanov and Frederic Leclercq whose presences were not forgotten). Their performance was one of the of the highlights from that festival, so when I heard that they were making a stop in my neck of the woods again, I jumped on the chance to witness them again.
Powerglove was the first opener for the night. I refer to them as video game super heroes as the parade on stage dressed like the characters of the Super Mario video game. Much of their musical influences surround video games and they referred to many during their set. Powergloves music is more instrumental with power-speed metal guitar solos and no lyrics. They were very energetic onstage and had great stage presence but the second act was about to take the spotlight. The furious Finnish warriors from Turisas graced us with their presence. As all six members assembled with their warrior outfits and painted faces, I wasn't sure what I signed-up for. As they belted out their vocals onstage with their Celtic metal riffs the warriors sang with strong passion, which was the perfect warmup for the following act, DragonForce.
As the lights beamed down, the crowd chanted "Dragonforce, Dragonforce" and I joined the chant. The stage had the same set-up from the Mayhem festival with a level up on the back for Dave Mackintosh on the drums and Vadim Pruzhanov on the keyboards and a platform in front of the stage with a fan which ZP Theart from time to time posed in front of with his hair blowing in the wind while pouring out his multioctave theatrical lyrics. Musically my expectation for DragonForce did not change as they still demonstrated the same intense,high energy metal sound. The highlight of the night was "The twins" Herman and Sam, and their dueling axes, Sam's playful moves and Vadim's glow in the dark keyboard which he paraded with on stage.
DragonForce were the heroic heroes and the winners of the battle once again that night to prove that they stand in a league of their own.
Congrats go out to DragonForce for their Grammy nomination.
---
RELATED LINKS