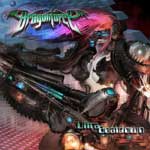 When I listen to DragonForce, the sound in my opinion is best described as epic and granduous in nature. Every single title on their release Ultra Beatdown is balls on. Each chord on the guitar and bass, the drums go beyond double beats as triple, and ZP Theart's vocals are flawless. These guys are fast as hell, and that makes it perfect. The mix of being on key, on tone and on tune, with instrument and voice is completely superb throughout the whole disc. They play if they are larger than life, and that is the right recipe for any artists. The short time we have make it your all, take it to the level beyond what anyone else will do, DragonForce does this, on the disc and if you have not experienced them in concert you should. One thing I am happy is that they found a sound that is great and just continued the same from the last album. Fans have not had enough of the last CD, so I am glad to have DragonForce continues and not begin experimentation in new sound. Many of our metal icons have done this, gaining many fans, but loosing early dedicated followers. I do not DragonForce loosing anyone and only gaining an army!
DragonForce presents to the listener more than just music but a feeling of empowerment, you feel good listening to the CD. Reminiscence of the early 1980's metal where it was themed, creating a fantasy to the listener. There are some ballads on this disc such A Flame For Freedom, but it is not a tear jerker, think of it as a dream song. Many of the tracks on this release such as Heroes Of Our Time, Reasons To Live, The Warrior Inside, etc., all are themed, best described epical, of elevated achievement. What is fresh with DragonForce is probably the fact that they brought a youthful voice to the sound of old metal, a young band in line with our icons from the past 30 years...wow 30 years of metal. In addition you feel the hunger and fun they bring to heavy metal. Fast guitars, epic lyrics, and most of all excitement and fun filled which is metal...music and partying.
If anyone does not know who DragonForce is? It's probably because you do not subscribe to the major metal magazines or a played Guitar Hero III, since Ozzfest 2006, DragonForce had graced the pages of every metal rag on the stands. But if you are not a true metal fan just enjoys the music, this is a great disc just to get down and listen to. You will be shocked beyond belief in the speed of the guitar work and how they work and harmonize together. In addition, there is no sense of competition among the guitarists in the band, but cohesive complementary blend, nothing clashes on this album...get your earphones on and just sit and jam. I will note, that this album probably will not appeal to your nihilist. If you want a theme of anger or violence this is not for you.
---
RELATED LINKS