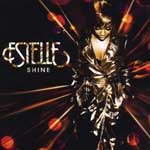 Estelle - A breath of fresh air
Hip Hop. Check.
Pop. Check.
Reggae. Check.
Soul. Check.
All of those elements make up West Londoner Estelle. Her refreshing sound can be heard on her newest release Shine. We were introduced to Estelle through American Boy, the singer's first single featuring Kanye West. Estelle summoned up the courage to approach Kanye during a chance encounter at a Roscoe's House of Chicken and Waffles in Los Angeles when she requested an introduction with John Legend. When the two hit it off, she also pushed her label to let her open for Legend during his European Get Lifted tour.
Estelle was first known for her skills as a rapper, however John Legend convinced her to expand her identity and open up and sing. We can credit John for bringing Estelle's talent to light as she's signed to John's label, Homeschool Records. He had this to say of Estelle, "She has a special voice, unlike any other voice out there in mainstream music, and she can really write. She writes hip lyrics with unforgettable melodies. I recognized that in her when I first worked with her in 2004." He continues, "I'm excited and honored to have Estelle as the first artist on my label, Homeschool Records. I believe the world is going to fall in love with her album, as I already have. Estelle is an amazing talent, and she's going to do big things."
The production on this album is superior in that all genres are covered and handled expertly. Back In Love has a head nod appeal and Estelle's versatility shines through on the hooks as well as the verses. The track Come Over has a reggae vibe and makes you want to sway your hips. One of my favorite songs on the album, More than Friends, showcases Estelle spitting hard. It aims her hip-hop skills at any man who expects her to be his part time lover. This CD is a solid effort from start to finish built on unique melodies and a fun collaboration of genres. The album is definitely consistent and play-worthy.
---
RELATED LINKS