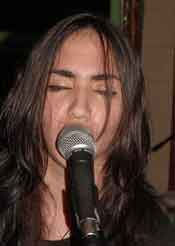 San Antonio punk rockers Girl in a Coma sweated things up on a cool spring night in Chicago as they are currently on tour promoting their 2007 CD release Both Before I'm Gone. The band is Nina Diaz lead singer and guitar, her sister Phanie on drums, and Jenn Alva on bass and background vocals. Playing to a packed house, Nina exploded with her energizing yet distinct vocal sound ripping thru song favorites like Race CarDriver, Their Cell and Road to Home They threw in a few new songs including BB, Empty Promises, and Ven Cerca--Spanish for "come closer." Nina has one of the most powerful and expressive voices in today's young music scene not to mention her scorching guitar work. The powerhouse trio dominated the night with other fan favorites Say and Clumsy Sky.
In an exclusive interview before their show in Chicago, the trio took time-out to speak with Unrated Magazine on all their latest gossip. Phanie expressed her excitement as the band received a great response on their recent tour opening for Morrissey which took the band overseas to London, Paris, and Scotland. Nina was thrilled that their CD recently was chosen as editor's choice on iTunes and Jenn announced that GIAC would be joining the True Colors tour for a few dates this summer and a possible tour with Canadian rockers Tegan and Sara to follow.
Girl in a Coma blends in their unique and catchy song lyrics to their impressive live show. Check them out as they are currently on tour now and most of this year.
---
RELATED LINKS