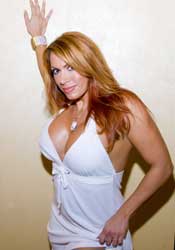 Chyna ( Joan Marie Laurer) did not make Glamourcon 44 this year. It was rumored due to a travel conflict. In today's day and age, in the travel industry, making it to the airport on time may not be enough, and being out of the continental USA just may even be a harder drag. We missed you Chyna. However if you were out to catch a wrestling superstar, the beautiful and blazing April Hunter filled your shoes nicely. Many of you may know her as part of the New World Order (nWo) of World Championship Wrestling back in the early 2000's, she brought spark to the wrestling circuit. April was great! She welcomed her fans, gave everyone more than a chat and pumped up those biceps. April Hunter's body is a tight brick house...she is fit and buffed...wearing a one piece dress, even seeing her in that you can only picture the bikini top and tight shorts racing to the wrestling ring. She would make a great Vampirella character for a movie; and fit the damn suit for sure.
One of my most enjoyable quick talks was with Taylor Wayne. Now she is class act, a real life fiction character. Her table always had fans in line waiting for autographs and photos. It took a little while to speak with her but the time was well worth the wait. One of Taylor Wayne's display items which caught my eyes was a poster in military dress with Taylor on her knee, holding a M16, titled, "No Man Left Behind." She noted that, "she was voted as one of the top girls of the Iraq war by our troops, which was such an honor for her since the other names were huge mainstream starlets." In addition to the many models, many came to check out the vendors who had vintage to current issues of your favorite Playboys and other adult theme woman's magazines. You found artists who specialized in glamour and the option to purchase some beautiful works of glamour art. Many of these artists have had their work featured in the vast array of modern day girlie mags and graphic novels. As to the beautiful models behind the tables, majority of the ladies have some degree of fame outside the mainstream modeling world, but do not think for one minute that their fan base is small. The feature Akira Lane's MySpace has over 10,000 friends and growing fast. Akira is an independent Asian-American entrepreneur, model and actress. Akira has been featured Playboy and in several soft-core adult movies. As we stopped by Akira, she gave us a quick DVD cover preview of one of new movies just released (Asian Scream Queen, Ready or Not).Google Akira and you'll find much more.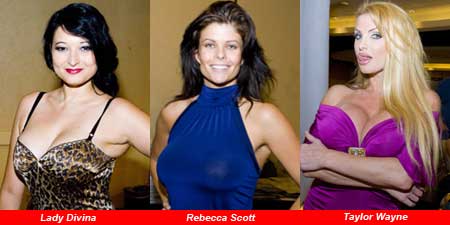 Several of the model vendors glamorized the Golden Age of Cinema. The style of their modeling featured the dress and photos of the Pin Up Glamour. To many of us, may know the famous old school pin up girls such as Betty Page, Marlene Dietrich, Rita Hayworth, Betty Grable, and so many more...popularized by our World War II G.I.s through magazines and movies. We met such a model by the name of Lady Divina. She was picturesque and stood tall. She shared some of history with us, growing up in Thailand as a military dependant and today homesteading in Texas. She loves the art style and works as a model mimicking the famed beauty of the classic past. Her works reflects those beautiful pinups. Our grandfathers of World War II popularized the pin ups in magazines, planes, tanks and all military outfits, who are remembered by us as the Greatest Generation.
As we walked the convention hall, three young African-American ladies stopped us in our tracks. They posed for some quick photos and gave us beautiful smiles. Amber Fox, Iyuana Nichole (known as the Exotic Trophy Wife) and Ashley Moon highlighted their talent as models, all three women managing their own modeling and talent agencies. They were very warm and welcomed photos. When an attendee fan walked by, each women quickly showcased and pitched their products. In addition they promoted in building brand awareness of their companies and web sites, as most of the vendors here at Glamourcon.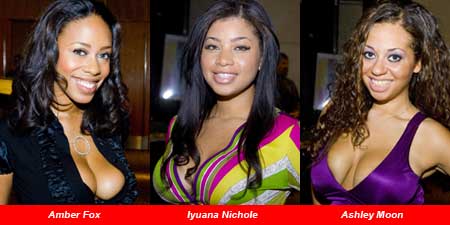 What is Glamourcon about? Glamourcon is brought to us by the promotional efforts of Bob Schulz who has been running the convention successfully for over 10 years. Glamourcon is held twice per year in Chicago and in Los Angeles. Glamourcon mission loosely reads that it's a celebration and market place of glamour arts. Bringing together celebrity features of the past such as Playboy Playmates, Penthouse Pets, other models, vendors and fans, together for sales of autographs, magazines, photos, art work, and much more. Glamourcon creates the opportunity to bring fans together to meet some of their favorite pin ups and Playmates. Photography and autographs are highly encouraged. Glamoucon is also dubbed as the Vintage and Modern Pinups (VAMP) Convention.
Overall the convention was fun...the large enjoyment is going with a couple of friends to the show. We hung out for a few hours, drinking down coffee and conversations before hittin Glamourcon 44 Chicago. We ended the afternoon with some food and beer. I also want to comment on the women of Glamourcon, most of the ladies were beyond courteous, and gracious to have fans come and see them. They genuinely enjoyed signing autographs, pictures and even gave us some words of wisdom. However, you cannot have the great with some buzz kills, to note, I'm not trying to act as a little don, but a few (very few) of the ladies were not into the press or even talking, unless you were paying to talk and buy. Only for the money.... How sad I say. To further add, that I even had a Seinfeld episode, after leaving a table, to hear the voices of laughter about oneself, hey ladies, I can deal with it, and I am dish it out as well, the two young woman, maybe you should tone it down till the person is our of ear's length. Maybe you'll get more sales. You never know who the guy is that is visiting your table, a shopper or just a browser.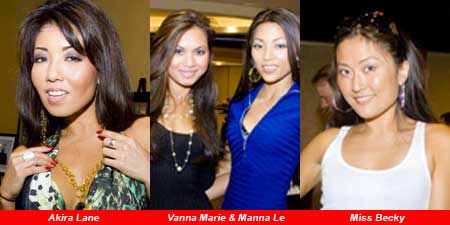 ---
RELATED LINKS