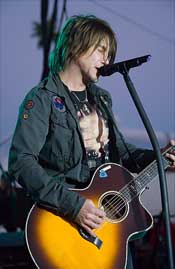 When I heard there was going to be a free Goo Goo Dolls show on December 8, 2007 at the Scottsdale Civic Center Plaza, I loaded up the kids and headed out. I really didn't have clue one as to why they were doing a free show, but if you say free in my family... we all jump on the bandwagon!
Once we got there, we saw a bunch of people walking around with Motorola blow-up headsets on and lots of people in Alltel Wireless shirts. We later found out that this show was courtesy of Alltel Wireless and was their way of thanking their Phoenix customers for its growth in the region. Not a bad gift Alltel... Thanks.
Apparently this is a new growing trend among more sizeable corporations, to host major headlining acts as a PR effort. "With Alltel's tremendous growth in the Valley, we wanted to celebrate by hosting a concert to thank residents for such a great year," said Scott Thompson, vice president of retail services for Arizona.
In addition to the free show, Alltel Wireless also offered Valley residents the new MOTOROKR at a smokin' deal, along with 50 free songs with the purchase of an accessory kit. They handed out lots of swag as well as coupons for their phones and service. Not a bad marketing strategy if I do say so myself.
The venue only holds about 2000 people so it was a pretty intimate show. The doors opened at 4 p.m. and the band finally went on at 5:30. It was a bit of a nice break to see a show in an outdoor venue where it wasn't 110 degrees out. This was the extreme opposite.... it was cold!! The entire crowd was bundled up... of course Jon Reznick asked if it was cold. The crowd shouted back yes.... And he responded with, "Good thing we are not all in Buffalo right now."
The Grammy nominated band that has racked up three number one hits and 14 consecutive top tens is easily considered one of the most successful bands of the last 20 years. They genuinely seemed happy to be playing this show for the Phoenix crowd. Bassist Robby Takak was a maniac on stage as usual. He really seems to have fun playing with the crowd. He also hammed it up a bit for my camera, which I am always grateful for.
The band started off with Stay With You which I love and so did the crowd. We're off to a great start so far! They then followed it up with Slide which spurred on tons of energy from the crowd that radiated back through the band. It was a virtual love fest!
Up next was Feel The Silence, Black Balloon and a very lively version of January Friend. The band was seriously sounding great and the crowd was having a blast. Cold, schmold. There is definitely a reason this band is so successful. They sound great and are so genuine with their fans -- it is a stimulating interaction that takes place between the two. The next song to be served up was Become followed by Naked. (hee hee she said Naked). Finally, one of my personal favorites was played -- Name. Apparently this is a crowd favorite as well because everyone was singing it. The Transformers song -- Before It's Too late was then played and then of course Slave Girl. I love this song.... It is so punk and so much fun.
Aha! Another great song Long Way Down blared through the amps and the crowd was totally fired up. Broadway was followed up with Let Love In and Acoustic #3.... and then of course the song everyone came to hear -- Iris! Again, the crowd singing at the top of their lungs - the energy was simply electric. The final song of the night was American Girl. What an awesome night. Thank you again, Alltel for the Gift of Goo Goo's, what a simply fabulous Christmas present!
---
RELATED LINKS