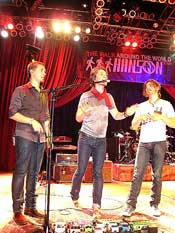 Isaac, Taylor, and Zac Hanson welcomed their screaming fans to the House of Blues to kick-off a two night stay. While some hardcore fans waited in line for nearly nine hours to get in the venue, other fans took to the streets with the brothers before the show. Not many bands can show the dedication that Hanson has shown to help those in need. Before each show, the three brothers take their fans on a one mile (or two mile like they did in Chicago) walk to help raise money for poverty and AIDS in Africa. They have been doing these walks in each city they tour in, and the out pour of help has been tremendous. In fact, Hanson just released Take The Walk book, a hard copy of The Walk album, and a digital album of the Take The Walk EP.
As the band took stage, they led off the night with Something Going Roundand the fans were in for a powerful night of classic Hanson songs, a few new songs, and superb Hanson harmonies. They performed Dancing in the Wind, Great Divide, The Walk, Fire On The Mountain, and Blue Sky. One of the best new songs was dramatic Lay Me Down. Taylor told the crowd of mostly screaming females that they have been performing together now for 15 years, but it was in 1997 when they released their song MMMbop--that skyrocketed the band into worldwide fame. Of course this was the song that the fans were geared up to hear as well as other favorites like Crazy Beautiful, Lost Without Each Other and Where's the Love.
Hanson has progressed into a solid pop-rock band with heavy driven lyrics and a large dedicated fan base. They are still one of today's best pop-rock bands around and their songs are crazy beautiful with great hooks and MMMbop melodies!
---
RELATED LINKS