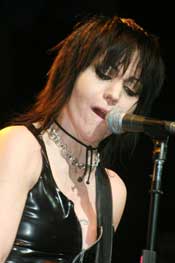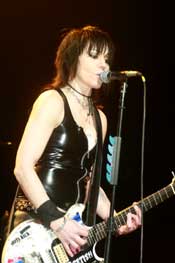 The energy was flowing at the NIU campus, and as soon as the lights went out and the Blackhearts took the stage, the crowd was in for an atomic night. Joan Jett dressed in a black vest and pants led off the night with her trademark song Bad Reputation which was followed by her ever popular Cherry Bomb. Joan has a fascinating connection with her audience and fans. It might be her catchy songs or getting the crowd to participate and sing with her, who knows? But whatever it is, going to see Joan and her band will have you pumping your hands in the air and singing along to her incredible hits. She performed her globe-topping smashes like Crimson & Clover , I Hate Myself For Loving You , and the song that broke the barriers in her career I Love Rock 'N Roll . She also performed songs off her latest CD Sinner including the sex-driven Fetish, tabloid-trash song Five, and the switch-hitting song A.C.D.C.
After her band left the stage, NIU was in for another treat when Cheap Trick took stage to perform tons of their hits. The band invited Joan on stage to sing back-up vocals on their song Surrender.
Joan has played a monumental role in bursting the boundaries for females playing rock and she can still pack the house with her fan base all across the world. So what is coming up in 08 for Joan? Look for a greatest hits CD to be released and more touring dates to be announced soon. A girl can do what she wants to do and that is exactly what Joan will do!
For more information visit: www.joanjettbadrep.com
---
RELATED LINKS