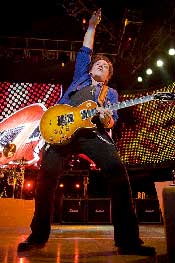 Billed as one of the hottest tours of the summer, Journey, Heart and Cheap Trick created quite a buzz in Phoenix. Everyone wanted to go to this show mostly for nostalgic reasons. Although they were advertised on the bill here, Heart was unable to perform on certain dates of the tour, Phoenix being one of those stops. Somewhere along the line, the advertising dropped Heart off of the radar with no explanation leaving most fans confused and disappointed. It did not seem to dissuade them from attending however, I mean, the show must go on right?
It appeared as though concert goes arrived nice and early to the Cricket Wireless Pavilion and hit the concessions and pre-show "parties" held by local radio stations including one that offered Karaoke. I really wish the Karaoke had not been there, because almost everyone wanted to attempt a Journey song. Singing Journey (like spandex) is a privilege, not a right people.
I don't know all the details, but I had heard that the meet and greets were cancelled due to bands arriving a little too late. Fans with this option were told that their tickets could be refunded and that they were able to keep the gift bags -- wait gift bags? For a meet and greet? I have never gotten a gift bag at a meet and greet. But I digress, it seemed most of these fans, while saddened, didn't want to miss the show over that. The crowd was very diverse and a lot of folks brought their kids to share the magic of these rock legends with a new generation.
Cheap Trick was up first and appeared just as dapper as ever with Robin Zander in a white jacket and Aussie Outback style hat and Rick Neilson in a suit and bow tie with his trademark checkered sneakers. Neilson's mic stand was literally covered in guitar picks which he readily used once and threw out to the crowd. At the end of the show, he actually grabbed handfuls and chucked them out to waiting fans. Neilson is known for his eclectic guitar collection and changes instruments often on stage to fit the song that they are playing.
The band played all the fan favorites including Oh Claire, Big Eyes, In the Street (That 70's Show Theme) which everyone loved. They launched into California Man and the crowd went crazy. Neilson commented to the crowd about the songs and how one was an intro to a sitcom and another was on Guitar Hero, etc. This band has had quite the success with selling music that was not meant to be mainstream into a commercial market.
Now it was time for If you Want My Love followed by I Know What I Want sung by Tom Petersson while sporting his 12 sting bass. Bun E. Carlos though looking a bit older these days, definitely kept pace. Up next yet another fan favorite I Want You To Want Me followed by Tonight It's You and The Flame featuring Jonathan Cain. Surrender was up next and everyone (even in the beer lines and bathrooms) was singing along. Goodnight followed by Dream Police which featured Jonathan Cain and drummer Deen Castronovo of Journey ended their set.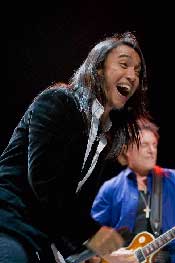 Journey appeared first on the jumbotron from back stage making faces into the camera and emerged onstage with the new intergalactic bug with wings logo on the digital backdrop behind them. The crowd was more than welcoming when they opened with Never Walk Away from their new album Revelations and it was received enthusiastically by the crowd.
There has been quite a rumble about whether this endeavor with the new Singer Arnel Pineda is genius or blasphemous and how this 41 year old plucked out of the Filipines via YouTube and thrust in the spotlight was actually very sad and lonely on the road missing home and family. His vocals were impeccable and if he is missing home, he certainly doesn't project that vibe on stage. He is energetic running all over the stage, jumping up onto monitors and performing spinning back kicks that David Lee Roth would be jealous of and as a bonus he sounds absolutely amazing! Neal Schonn, Jonathan Cain and Ross Valory would exchange glances on stage with a grin when the crowd reacted to the sounds that were enveloping the Pavilion.
The band continued on with Only the Young, a Neal Schonn guitar solo of the National Anthem and Stone in Love. I have to admit that while I was shooting the photos I was belting out Stone In Love right along with the rest of the crowd and the band - It sounded fantastic! Up next were Ask the Lonely, After All These Years, Separate Ways (Worlds Apart) and Change for the Better.
The band then launched head first into a string of mega-hits which the crowd went insane for singing every song line for line including Who's Crying Now, Chain Reaction, Lights, (a Deen Cain instrumental segway), Open Arms and Don't Stop Believing. They also played Wildest Dream, Rubicon, Wheel in the Sky, and Any Way You Want It. The crowd was most certainly wanting more and I think Journey was as well, being the second to the last night of this tour ending in Laughlin, Nevada on 5th of October. The finishing blow from the band came with Escape and Lovin' Touchin' Squeezin'.
Fans piled out of the venue and waited in long lines to leave (which is unheard of because a lot of people usually leave a little early easing the traffic crunch) and blasting their favorite Journey albums in their cars on the way home. The entire night was reminiscent of a mid-80s arena rock concert! Well done to both bands, but especially Journey -- it seems they have a second lease on life with new singer Arnel Pineda!
---
RELATED LINKS