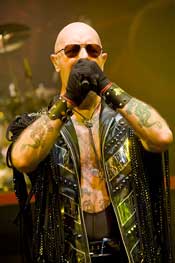 This was one of those shows that were just flawless from beginning to end. From the moment you get there to the moment you leave, there is just no lull.
Hitting the stage to warm up the crowd (no pun intended, as it is Phoenix and it was 106 at the time) the boys of Testament were all grins. I don't think I have ever seen Alex Scholnick smile as much as he did during this show. As expected, their set was short but it was ferocious. More Than Meets the Eye and The Formation of Damnation were off the new disc, while oldies like Practice What You Preach got the rapid diehards screaming. I wish I could give Testament more ink but their set was frustratingly short. Each song they played (around 5 or 6 I believe) was played with a vengeance, yet they were all smiles on stage.
One of the things that really pissed me off about Testament's set was the fact -- 25 years later -- they are still being ignored. Most of the media that showed up to cover this Phoenix gig did so after Testament played (even half of them didn't cover Motorhead). There was even a few that didn't know Testament was on the bill. All four bands on this bill made this tour something great, and deserved their moment in the spotlight. Unlike most support bands on such bills, Testament hit the stage and bitch slapped the crowd, rather than just prayed they got through it. They seemed to convey the message "You might be here to see Priest, but you're going home with my boot print on your ass!". This was one of the first gigs I have seen in a long time where the venue (15,000+, although it was not sold out) was about 60 - 70% full for the first support band.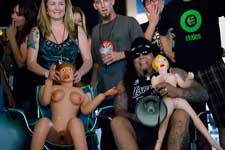 Following this killer set was none other than Motorhead. Motorhead picked up where Testament left off and delivered a pummeling set. In the Name of Tragedy, Killers, Stay Clean, Going to Brazil, Ace of Spades, Killed by Death -- they all came roaring out of the Marshall stacks and took no prisoners. Hell, even during Mikkey Dee's drum solo the entire damn drum riser looked like it was going to crumble from the earthquake that was performing on top of it. The set closer, Overkill, was a pure supersonic headbanging anthem delivered to the sea of bobbing heads and raised horns.
Chuck Billy found himself having to pay respects to the Motorhead icons several times by running out on stage and lending backup vocals. Chuck was having fun all night -- check out the photo of him and his "friends". He had gotten some chairs and set up camp off to the side of the drums when Motorhead was on. Again, all grins.
After a short beer break, Heaven and Hell (aka Black Sabbath with Ronnie) came out much to the anticipation of the full crowd. While I was in the photo pit, literally about 10 minutes before the band took the stage, I get a text message from LdyWoreBlk, "A storm is coming your way!". I immediately thought it would be a nice change of pace from the day's blazing heat, but I soon realized a monsoon storm was upon us (the lightning in the sky probably put on a better light show than Heaven and Hell). The wind soon kicked in, as evident in the photos of Ronnie. And yes, it still was a nice change of pace!
As we all know, these metal icons are spotless time after time. Their show hasn't changed since they got back together and toured in early 2007, but at the same time it doesn't matter. It's still a treat hearing the soaring vocals of Ronnie and the riff attack of Tony. Mob Rules, Children of the Sea, I, Sign of the Southern Cross, Time Machine, Die Young, Heaven and Hell -- they were all played perfectly. The band thoroughly enjoys being on stage and playing for everyone. I have to give them credit for getting out and having fun, not waiting around for His Royal Burnout to get off his doped up ass and figure out whether or not to do another Sabbath disc. The original Black Sabbath will always be one of the biggest legends there are, but quite frankly after seeing the Dio fronted Black Sabbath twice, the original should be put to bed before that legendary status is flushed down the toilet, much like the solo career was after the reality show.
After running around and dealing with the heat for about 5 hours, it was great to be able to take an extended break waiting for the mighty Priest. Got to hang out with a bunch of friends, including George from Raptor Guitars and KNAC.COM's own Long Paul and DJ Will. After a couple of cold ones, the lights go down, signaling the coming of Nostradamus.
The band hits the stage pretty much the same way they did for the Angel of Retribution tour, with Rob Halford coming up from the far left side of the stage, Glenn and KK up front. This time, however, Rob has a full cloak on, hiding his face for more than half of Dawn of Creation/Prophecy, the opening tracks of both the set and Nostradamus.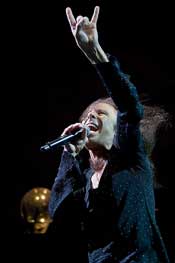 Being a typical Judas Priest show, the band plays what they always play -- Metal Gods, Breaking the Law, The Hellion/Electric Eye, You've Got Another Thing Coming, and Hell Bent for Leather (complete with Rob on his Harley during the encore). Each song is played with precision by Glen and KK, while Scott and Ian keep things on time. The vocals -- c'mon, it's Rob. The staples of the set are as killer as always.
There were a few "new" tunes thrown in that I don't remember from the Angel tour -- Eat Me Alive, Between the Hammer and the Anvil, Dissident Aggressor, Rock Hard Ride Free, and Devil's Child. Nice to see things mixed up a bit. All good things must come to an end -- I was kind of glad to see Turbo Lover, Beyond the Realms of Death and Victims of Changes are no longer in the set list.
It's also funny to note that the Arizona monsoon hit hardest during Priest's set, much like one did a few days prior in Houston I hear. Leave it to Priest to bring the metal and the thunder.
---
RELATED LINKS