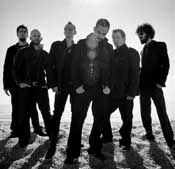 Linkin Park is a band that has grabbed fans from all over the map, from hip hop heads to metal lovers to suckers for a beautiful ballad. Their latest album, Minutes to Midnight (Machine Shop Recordings/Warner Bros. Records) is yet another example of the way their music has grown and gathered more of a following in the process. Nine months after the release of the CD, Linkin Park embarked upon a new tour with 19 U.S. dates over just less than a month. Not only is this tour packed with surprises (songs they have never before performed live, as well as old favorites) but it's also part of an effort to please fans as well as themselves. When the six members of Linkin Park set out to make the record, they used plenty of imagination to make it great, so the tour had to match that.
"I think the most important part of the process [of writing Minutes to Midnight] in my eyes was the fact that we opened our minds up to writing music that felt right," said Chester Bennington, vocalist. "We write music that we want to hear, and if that means putting a jungle beat with a saxophone, then we're going to write that. I think people are opening up to that idea that we're a band not afraid of extending ourselves...and pushing the boundaries. Our fans stick with us through the process, and it's pretty awesome." Mike Shinoda, the band's vocalist and musician agrees. "We're just making whatever sounds good to us...but before we turned in [the record] the day we finished it, we were pretty nervous. Who knows if the fans had grown up in the same direction we had?" he shared.
Luckily, the case was, as usual, a loyal following. With shows selling in 360-degree arenas all over the U.S. people are showing up to watch the new tour, which offers a little something extra this time around. Not only is the production and the set totally different from their last tour, but also the material could be surprising, and there is a take-away! With the offering of a digital souvenir package, Linkin Park is offering fans the option of purchasing something they can take home with them, as an ultimate memento from the night. "With the digital souvenir package, after you go to the show...come home and in your email inbox you'll have a link to the MP3s of our set from the show you went to. You get to take home the hopefully memorable concert that you went to," explained Bennington. Shinoda added "Another thing that's really cool about it is that we encourage fans, because our sets change, to trade these MP3s. We really like the fact that in the digital world, people who like the same things can communicate and share things with each other."
Don't miss your chance to get to one of the remaining shows on the last leg of the tour as you will be in for a treat. "We actually put a lot of attention on our live show this time around," said Shinoda. "Ever since we came out of the studio, we were really excited about different ways we could keep the show fresh." Also on this tour for Minutes to Midnight, get to know openers Coheed and Cambria, and Chiodos, bands that Linkin Park was really excited about inviting on tour. "We feel that good music speaks for itself, and I don't know about you guys, but if I go to the concert and every band sounds the same, it's kind of makes for a really long day. So we do like to keep things fresh and keep things moving, and play with acts we haven't played before," said Bennington. The best thing about the tour, aside from all else it has to offer, according to the vocalist, is "None of the bands suck! It's really exciting for us to get back into the arenas...and really take advantage of our production elements and the sound quality." Sounds like something fans should take advantage of, too.
---
RELATED LINKS