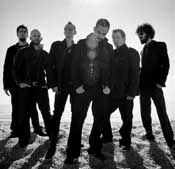 As the lights dimmed down, the crowd began to chant Linkin Parks name in the hopes of getting a glimpse of the band but instead three shadows began to creep onstage. All three creatures were wearing glow in the dark outfits. They took their places onstage and began bashing on drums which resembled big black water tubs. Moment by moment their drum beats became more intense and the echoes from the beats became louder which gave a chance for the members of Linkin Park to take their places onstage. The band was greeted by loud screams and chants. Their choice for a opening song, "What I've done", was their lead single from their newest release " Minutes to Midnight" and was also featured on the Transformers soundtrack.
The crowds reaction all through the show proved that Linkin Park has a very solid fan base of loyal followers that has embraced their style and sound during their 12 years together. I recall the time when I first heard Linkin Park and had a hard time understanding their style due to the way that Linkin Park reinvented the metal-rap crossover with that first album. They now have that style nailed down and through the night everyone in that crowd knew all the lyrics to every song they played.
Opening bands for this show were Ashes Divide and Atreyu but unfortunately due to a scheduling conflict I was only able to only see the performance of Atreyu. Pardon my ignorance but I did not know much about Atreyu prior to witnessing their set. Their energy level was not as high as Linkin Park and it almost felt as if they were struggling to attract the crowds attention. Something did change toward the end of their set which perked the crowd back up, their choice to cover "Shot Through the Heart" by Jon Bon Jovi was the highlight of their performance. I am willing to give Atreyu another chance since I felt that I did not give them the benefit of the doubt and I hope to catch-up with Ashes Divide in the future as well.
Overall, Linkin Park not only met my expectations but also surpassed them. They definitely have shown a lot of diversity accompanied by a mix of very attractive visuals and a energetic performance which at times was overwhelmingly intense. For those curious about Linkin Park,I would highly recommend you seeing them live even before picking up a CD.
---
RELATED LINKS