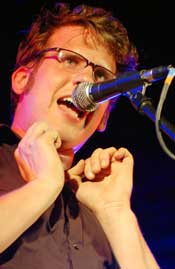 Ludo seems like a typical rock band from Saint Louis Missouri but they are far from it. In 2005 they released rock opera EP that dealt with love, death, time machines and even dinosaurs. There new album "You're Awful, I Love You" is not a concept album but keeps the Ludo feel. The band is finishing up a tour with The Spill Canvas and will be heading out next on the punk rock summer camp know as the Vans Warped Tour. Make sure to stop by their merchandise booth to see their very creative products such as a toothbrush with their name imprinted on it. Marshall Fanciullo (bass) and Matt Palermo (drums) met up with me at one of Jersey Shore's finest restaurants, Surf Taco, for this interview.
---
Kristin Biskup: I read that you got your name from the film Labyrinth. What is the reason behind it?
Marshall: It comes from the 1980"s movie called the Labyrinth staring David Bowie and Jennifer Connelly. Ludo is a giant muppet character and he calls the rocks. That is how the name originated.
Kristin: In 2005 you recorded a rock opera EP. Can you explain what rock opera exactly is?
Marshall: Our rock opera is a five song EP where each song is a different story. I don't know how to explain it but it is a theatric story set to music.
Matt: Basically it is a concept album but ours is only five songs long. We didn't originally set out to do it but Andrew Volpe, our main songwriter, wrote the first song "Broken Bride" which is about a man who goes back in time to save his wife who died in a car accident but ends up in the Jurassic period and all this stuff happens. From there it kind of spiraled out of control. Andrew wanted to keep the story going so we finished it up. We call it a rock opera but we use that term loosely.
Marshall: A musical theater group in Chicago actually acted out the music which is kind of odd.
Kristin: You seem to be known for putting on themed concerts. What has been the craziest one?
Marshall: We do one every year called A Very Ludo Christmas in Saint Louis. We decorate the place up and last year we had some people help out and they dressed up in reindeer and elf costumes. We pass out cookies and hot chocolate to the kids waiting in line. We have done a show a couple of times called Cinco De Mustache where we do the show on Cinco De Mayo. We make all the bands that play the show grow real mustaches and we give away fake mustaches. We also do a Halloween show in Colombia Missouri called Nightmare on Night street that usually does pretty well. We have also done hula shows and such.

Matt: We just like to have fun.
Kristin: What made you choose to go sign with Island Records?
Marshall: Island was the best fit for us. We talked to a few indies and even a few majors such as Capital and after conversations with all these people, Island just made the most sense for us. We are a very grassroots do it yourself band and we decided Island was going to be the best match regarding resources and working together as a team.
Kristin: What is the concept around your new record "You're Awful, I Love You?"
Marshall: It is just a collection of songs. There is no theme or common thread that goes through all the songs. Unlike the rock opera where the common thread is the story behind this guy and his wife. I am sure we will do other concept albums because that is something that interests us. With Island we get to make these weirdo albums on the side through our own label, Redbird Records.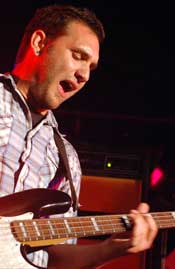 Kristin: What is your favorite youtube video?
Marshall: I saw this one the other day about a singer falling off a stage that practically made me tear up with joy. It was one of those adult contemporary shows. This guy comes out dancing, hopping and skipping. Then it gets to a point where his hopping and skipping gets pretty intense and he falls. However, he is so far from the end of the stage that there is eight feet of him rolling down the windows and then he is off the stage. It is beautiful. Youtube 'Singer Falls Off Stage.'

We just played a show called Journey's Backyard Barbecue in Nashville Tennessee like two weeks ago. They had a battle of the bands for local bands to get on show and there was this band called Deadsun that won. They just got a new singer so when the band started playing the singer was off stage ready to make his entrance. The band was playing a steady full rock rhythm. The singer ran up the ramp to the stage and got to center stage and gave the first note of the song which was a scream. The guy gave it all he had. Then he moved to put the mic on its stand but he fell off the stage and his face hit the front barricade and fell to the ground. It was amazing like nothing I have ever seen before in my life. I thought the guy died. The best part is that the band's full rock rhythm never stopped. It just kept going like nothing happened. The guy was unconscious for a minute and a half and some of it was to his band's own rock rhythm. They took him backstage and the guy ended up going back onstage and finishing his thirty minute set. It was pretty rock and roll.
Kristin: If you could be any Disney princess which one would you be and why?
Marshall: Jasmine is pretty cool. Flying carpet yo!

Matt: Yeah Jasmine because of the flying carpet and the sweet, sweet palace.
Kristin: What is your favorite New Jersey Restaurant?
Marshall and Matt: Surf Taco.
---
RELATED LINKS