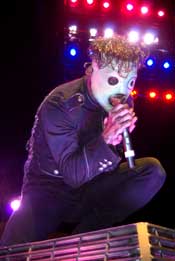 In a traditional Ozzfest-like stage setup, the Rockstar Mayhem Festival visited Chicago and brought all the ear-popping thunder that Ozzfest has been missing over the past few years. With only one show in Texas this summer, Ozzy & Co. gave Chicago (and the rest of the country) the middle finger. So, the Mayhem Festival not only provided Chicagoans a much needed metal needle in the vein, but gave us the addicting drug at an affordable price.
"Noises, noises, people make noises.
People make noises when they're sick"
On an absolutely perfect and cloudless summer night, Slipknot and Disturbed delivered a firm knock-out punch to all the sun-soaked concertgoers at the First Midwest Bank Amphitheater. The main stage powerhouse headliners gave us everything we could want and more for a Sunday night. Chicago's favorite rock sons Disturbed came up first and blasted out classics such as "Liberate," "Prayer," "Stupify," "10,000 Fists," "Voices" and "Stricken" while still carefully sliding in "Inside the Fire," their first radio single from Indestructable. Disturbed sounded incredible in a set that lasted just over an hour. As the sun was setting on the Windy City, the south side quartet powered out this thirteen-song set with such precision that each song almost made you forget that Slipknot was close behind. Almost.
David Draiman took some time after "Liberate" to let us know that Disturbed missed Chicago "very, very much" and it was great to be back in "sweet home Chicago." Dressed in an all black jumpsuit from his tour staple Hannibal Lecter stage introduction, he stopped to speak much less than usual (for him) between the stage background changes and eerie lighting positioning. Even a mask-less, top hat wearing and motorized cart-bound Sid (#0, DJ from Slipknot) rolled up in the crowded backstage area to take a peek at what Disturbed was doing to the Chicago faithful in a much anticipated homecoming show. Closing their set with "Down with the Sickness," Disturbed left the stage with nothing else to deliver just before 10pm. This was by far the best Disturbed set I have ever seen in a festival-type setting.
Leaving everyone just a minute to catch their breath, Iowa's masked contribution to the hard rock world walked (and rolled) onto the main stage for a thorough mauling. With the pit in a state of pure insanity now, the nine rockers from just down I-80 showed off their new masks in support of their soon-to-be released (August 26th , maggots) fourth studio album All Hope Is Gone that was recorded in Jamaica, Iowa. Blistering versions of "Disasterpiece," "Before I Forget," "The Heretic Anthem" and "People = Shit" surrounded only "Psychosocial" from the new release. The guys even took a moment to dig deep into their stash to transmit "Prosthetics" before rounding out their set with a ferocious version of "(sic)." A reassuring promise from Corey Taylor that it "won't be another two and a half years" until Chicago sees Slipknot again seemed to appease the shirtless maggots in the pit right below his worn out, black Addidas shoes. And, how could he not pause to poke some fun at Sid who broke both heels on the first night of the tour jumping off a platform in Washington? This, however, did not stop Sid from crawling around the stage and riding elevated drum kits in his two boot casts. We all know by now that it's going to take a lot more than a wheelchair to stop these freaks.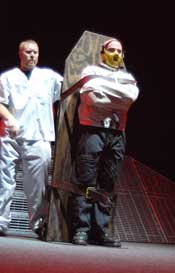 With only six dates left on the Mayhem Festival, my only advice would be to get your ass out to one of the upcoming venues to see this in person. Bring your earplugs and consider your ticket price as being an investment in the best rock festival of this summer. Atlanta, you're up next.
I left this show with my ears ringing and a renewed sense of interest in Disturbed. As much as I will always be in support of Chicago bands, I just hadn't seen that much from them in the past few years. However, Sunday night's performance was jaw-dropping and precise for the almost capacity Chicago crowd. And Slipknot, what can I say about Slipknot? They're back people. If you've been wondering where our Midwestern friends have been the past few years, they plan on telling you on All Hope Is Gone. Even with a voice that has been somewhat battered by the current tour, Corey and the guys absolutely destroyed their ten song set. They exploded (literally and figuratively) through a sample of their ten years as a signed band and didn't feel the need to force the new release down your throat (which, ironically, makes you want to pick it up even more). I left excited (and with a pair of Clown's drumsticks) to see the guys again and pick up the new album. If you listen closely today, a certain chant can still be heard echoing all over the south side of Chicago... "August 26th, August 26th , August 26th ..."
See you soon guys.
Slipknot's Set List:
Surfacing
The Blister Exists
Before I Forget
Disasterpiece
Psychosocial
The Heretic Anthem
Prosthetics
Duality
People = Shit
Encore
---
Special thanks to Greg Cortez, Amanda Moore and Matt Derrig for all their help. As always, I can be reached at Tim@unratedmagazine.com.
---
RELATED LINKS