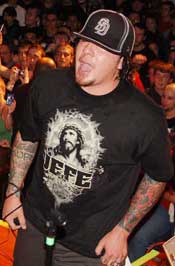 On April 8 th, P.O.D. will be releasing their fiery new CD When Angels andSerpents Dance. Prior to the official release of their CD, the band decided to partner up for a month long charity drive with the Hard Rock Café and the non-profit organization Musicians On Call to help raise money for patients who have a love for music but are too sick to leave their hospital rooms to attend concerts. The band did many meet and greets and listening events at Hard Rocks' across the U.S. and they also performed at a select few giving fans an intimate setting to listen to new songs and jam with their aggressive classic hits
Columbia recording artists P.O.D. music can best be described as a stirring up of rap and metal, intermingled with hip-hop and reggae. The band also broke barriers proudly showcasing their Christian values into many of their songs lyrics. The foursome that make up P.O.D. have achieved international record sales totaling well over 8 million, a huge fan base with diehards known as "The Warriors", and one of the best live acts touring today.
The Chicago Hard Rock venue was filled to capacity when P.O.D. took the stage. The band is back with all four original members; Sonny- Vocals, Traa-Bass, Wuv-Drums, and the return of Marcos –Guitar. They led off the night with Set It Off and from the time Wuv hit the drums the night exploded into hard power energy that never stopped. Their new release Addicted saw most of "The Warriors" singing every word with Sonny and it is one of the best songs on their new CD. The crowd also gave a big response to a few other new songs including Kaliforn-Eye-A, Condescending, and the heavy hitter of the night God Forbid which had the crowd moshing and throwing their fists up to every beat. Another new song and fan favorite was Shine With Me with its catchy love lyrics. With Sonny jumping on speakers and mixing himself up in the crowd most of the night, many fans in the first few rows were able to grab his microphone and help sing classics like Boom, Southtown, and Alive. When they started performing their insanely popular Youth of a Nation, the fans took over singing the chorus while Marcos sizzled on guitar. The foursome all gave 110% to make this intimate setting for a P.O.D. show a memorable one.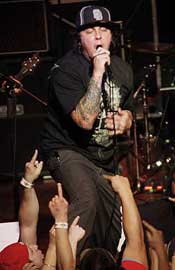 In an exclusive interview with Unrated Magazine, the band was excited on how positive the feedback was they were getting doing the Hard Rock tour and how they were selling out tickets in each city. Sonny told Unrated that partnering with Musicians On Call was a key reason to get out and do the month long tour. He emphasized that all money made at each venue was going directly to MOC which brings recorded and live music to patients in healthcare facilities. As they say, music can cure what ails you, and that is exactly what MOC is reaching out to do. Wuv told Unrated that their first video was ready to be released and it is for their new song Addicted. Marcos added that the meaning of the new CD When Angels andSerpents Dance is really when the good meet the bad. He said the title could be about P.O.D. and the struggles within the band before and how they have rekindled their friendship and that they are all making better decisions in working as a unit. Sonny and Traa pointed out to make sure to listen for guest musicians on Serpents including The Marley Sisters, Mike Muir (Suicidal Tendencies), and Page Hamilton (Helmet). The selection process was simple; they asked musicians they respected to help with their recordings.
With the original line-up back in action, "old-school" P.O.D. is back in full force with fresh new songs that will have you addicted fast. Look for an upcoming national tour roaring into your city soon.
For more information check out: www.payableondeath.com
---
RELATED LINKS