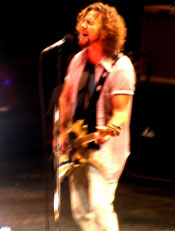 "I'm still Alive!" growled a rugged Eddie Vedder during a sold out Pearl Jam show at Manhattan's famed Madison Square Garden Arena in support of their, uh, wait a minute, do these guy's even have an album their touring behind? Well, yes and no would be my answer. The "no" part comes from the fact that PJ has not released a new "studio" album since 2006's self-titled "avocado" album, but on the other hand, one could say "yes" because they are recording every show in soundboard quality and selling mastered copies on their website; thus, new albums are coming out weekly, similar to the frequency of Lil Wayne mixtape CDs. Pearl Jam calls these recordings "concert bootlegs," and sells each two (sometimes three) disc set for roughly the same price as a single CD at a walk-in record store. Pearl Jam is the only band I know that goes to this length for their fans which is one reason floor seats were averaging $700 [per seat] on Craig's List just days before both sold out MSG shows.
Being fan friendly has been Pearl Jam's strong suite since the early 90's when Eddie Vedder made it a point to exploit and challenge Ticketmaster's unfair monopolistic practices. Despite a valiant fight, fans only saved a few cents, but nobody seemed to mind spending hours waiting on the phone to buy tickets for the No Code tour. In 2000, soon after the original Napster's demise, Pearl Jam found a way to embrace technology rather than try to stop its progression, unlike other artists I shouldn't mention [cough, Metallica, cough]. Initially, the "bootleg concert" prototypes were recorded during the Binaural Tour, but the project was so successful that it has been repeated for every tour over the past eight years, bringing us back to the sold out MSG show in late June.
For the 2008 tour Pearl Jam teamed up with Verizon Wireless to release three tracks per show on V CAST Music phones called mobile bootlegs. "With our proven track record of delivering high quality bootleg downloads and CDs, we feel this new approach will not only benefit our fans, but provide an exciting opportunity to share Pearl Jam's music in a more interactive setting," said Ten Club Manager Tim Bierman. Verizon's impact on the show was felt early on with two large screens above the stage that displayed text messages written by people in the crowd. If you texted a message to 46461, then that message would appear on the screens for everybody to see. "Scream if you love Eddie," read one message, which was then followed up by shouts from the audience. Although the text incited a loud roar it paled in comparison to the deafening cheers from fans the instance "Hard To Imagine," a b-side found on 2003's Lost Dogs album, passed through MSG's grandiose sound system.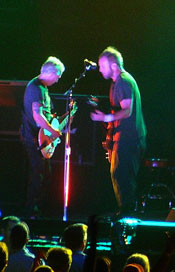 While "Hard to Imagine" started the show on a mellow note it was merely the calm before the storm. "Save You," a powerful song off 2003's Riot Act, officially set the show's tone: like waves in the ocean, beautiful at times, and fierce at others. With mesmerizing light schemes and patterns reflecting off the multi-colored silhouette backdrop Pearl Jam pounded out classics such as "Why Go," "Even Flow," and "Daughter;" songs written nearly two decades ago. "I've been listening to Pearl Jam since I was 16," revealed Alyssa, a loyal PJ fan out of New York . Besides the classics Eddie and Co. performed a fresh sounding "Who You Are" with special guest vocalists Fonzi Thorton, Arif St. Michael, and Vaneese Thomas, who also joined the band on stage for "W.M.A." and another b-side, "All Night." As the show progressed so did the group's intensity. For "Present Tense," Mike McCready's guitar took on a life of its own as the slower studio version on 1996's No Code was replaced by a fiery extended version. Bassist Jeff Ament also got into the action with his song closing jump kicks. A bearded Stone Gossard flexed his guitar muscles during an explosive rendition of "Do The Evolution," from 1998's Yield.
"We got the curfew extended for tonight's show," Eddie told the crowd early on, and that extra allotted time gave Pearl Jam the opportunity to rock MSG for three encore sets, which included songs like "Spin The Black Circle," "Porch," Victoria William's "Crazy Mary," Pete Townshend's "Love Reign Over Me, and a special guest appearance by Ramones bassist, C.J. Ramone, who performed with the group on stage during a cover of the Ramones' "I Believe in Miracles." The show's climax came during a breathtaking version of "Alive," off Pearl Jam's 1991 debut album, Ten [Mookie Baylock, Mother Love Bone, and Temple of the Dog do not count folks!]. Besides the captivating array of colorful visual effects fans got to hear an organ solo by Boom Gasper, which was then followed by a call to arms for everyone on stage: Mike McCready walked up to Boom's area and began exchanging sounds with the long haired organist. On the other side of the stage, both Jeff Ament and Stone Gossard surrounded Matt Cameron's elevated drum set and went off on their own musical tangent. It was like watching two jam sessions create individual sounds that happened to work well as one piece of music. It was truly an unforgettable sight, something that cannot be reproduced on the "bootleg concert" series.
The final encore consisted of Bob Dylan's "All Along The Watchtower," and "Indifference," an emotional song off 1993's Vs. album. In Pearl Jam-The Illustrated Story, A Melody Maker writer Allan Jones asked Eddie to comment a bit about the meaning behind "Indifference," and Eddie replied:
"On average, we have maybe 50 to 60 years on the planet. And we probably have 20 years when we're a vital presence, when you can actually do something with your life.So what are you going to do with that time? Are you gonna enjoy it, not get involved? Or are you gonna try and do something to make some other peoples' lives better than they are, even if it means going through hell? Even if those people don't even appreciate what you're trying to do. Even if you're not sure yourself that what you're doing is going to make any bit of difference."
This show, as usual, was fantastic; and if you don't believe me then I suggest you go online and listen to the Verizon mobile bootleg. Besides the advancement in technology and distribution there is a far more important example the entire music industry can learn from PJ's 2008 tour.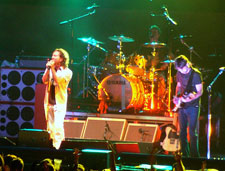 This article is titled "Rock Music with a Hip Hop state of mind" because one can easily compare Pearl Jam's "concert bootleg" series with Hip Hop's street mixtapes. One of the reason's rapper Lil Wayne found success with his newest album, Tha Carter 3 is because the streets are saturated with his mixtapes. Every week he releases new music and fans breathe it in like air. Artists who release new music with that kind of frequency will profoundly impact their marketing demographic; in other words, more people will catch on and create buzz over time. This also explains how Pearl Jam has continued to be successful albeit the absence of music videos on MTV and consistent radio play since 1993, and although their grass roots approach to the industry can be likened to that of Ben Harper and Phish it becomes an unfair argument as soon as somebody mentions the "concert bootleg" series. Think about this, if Pearl Jam sold 1000 bootlegs at $15 a piece per show they could generate enough revenue to help more charities like the Robin Hood Foundation in New York.
Deciding to record every live show for mass consumption says a lot about a band. First off, it means that every show has to be a good one. If one show sucks then thousands of fans will not only be ticked about the bad performance, they won't buy the bootleg either. That being said, deciding to record every performance reveals how confident a band is in its ability to perform consistently on stage. It also shows that you care enough about your fans to give them each a personal memory about the time they saw you rock the free world on stage, the ability to share that moment with family and friends is priceless.
On behalf of every die hard Pearl Jam fan out there I have just one message for the band.
We appreciate everything you do because it makes a difference! Thank you.
---
RELATED LINKS