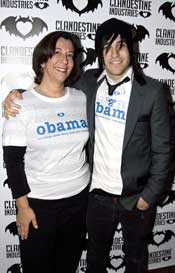 Pete Wentz, bassist for Fall Out Boy, came back to his home state to show his support for Senator Barack Obama in exactly the way a rock band member should. By holding a Barack bash, in the form a fundraiser, on January 22, Wentz sparked interest in a whole new genre of people. Appealing to the younger generation, the star was able to reach even those too young to vote at the all-ages political "party," in the hopes that they could spread the word. "I think with the young voters, it's all about getting involved and understanding the politics to where you can influence other people to vote. You can always donate to the campaign, and make people aware why you're supporting the candidate," says Wentz.
The night lived up to the Barack-N-Roll signage posted near the DJ booth and under the boom box décor inside Chicago's Lakeview Broadcasting Company. The benefit was a hit, complete with a hot atmosphere, a host of hip appetizers, and a handful of Wentz' famous friends. "It's great to realize that where you're voting and what you're doing actually makes a difference. And [especially] if you can get a carload of your friends to go and support it. At the end of the day, this is just my carload of friends," says Wentz. Some of the guests in attendance that night included Wentz' father, FOB guitarist Joe Trohman, Gym Class Heroes' Travis McCoy, members of Kill Hannah, and more. The donation covered more than the star-studded scene. It also included a Clandestine Industries Obama t-shirt, special guest speakers (Illinois 12th District State Representative Sara Feigenholtz and Alexi Giannoulias, Illinois State Treasurer), and for those of age, a fitting drink menu. While supporting the senator, fans and followers were encouraged to exchange ideas over the signature drinks of the night, the O-Bomb(A), This Ain't A Scene, It's a Gin and Tonic, and Yes We Cans (a delectable selection of canned beer).
Wentz acknowledges that his "carload" of friends on this particular night, may not be as big as Oprah Winfrey's (another supporter of Obama), but that everyone can make a difference. "I think Oprah proved that celebrities can have a huge impact, and I don't know that I have the same surge, but I don't think it hurts," he shares about his activism. "And your individual vote counts, that's a debate you don't want to have with a political science major," says the bassist, who studied the subject for three years. Though he wasn't as up on the political scene, even back then, Wentz cites the moment of clarity that led him to getting involved with the 2008 election. "I think the thing that made me want to be involved the most was watching the reaction [of the New Hampshire primary] in that it was almost like a sporting event," he says. "And in college, I never really got involved, you know, a lot of my friends thought it was more fun to get drunk and make bad decisions. That feels a little like what we did eight years ago when we elected George W. Bush," his candid speech revealed. Wentz went on to describe Obama as an electrifying speaker (and lightheartedly, "a good-looking guy") and told UnRated Magazine, "I would love to see Obama be our next president."
---
RELATED LINKS