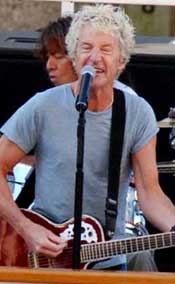 Back in high school, I was the Mac Daddy of Mixtapes and everyone knew it. Yeah, I was a bit geeky and tried way too hard to impress women with my vast musical knowledge and library, but still, no one could make a mixtape quite like me. Now, this was in a day and age where MP3's didn't exist and vast musical libraries were few and far between. My collection of a few hundred cd's and cassettes was unheralded and in high demand. When making one or many mixtapes, I usually threw on an over the top power ballad that always took the tape from good to great in their minds. One of the tracks I always slipped on was REO Speedwagon's "In My Dreams", a Top-Twenty hit from 1987. I'm not sure why, but the song always crawled under my skin whenever I heard it. I always got compliments whenever I included this song and regardless of what people say, REO Speedwagon defined the power ballad better than anyone, including Journey. I'd even dare say they owned the genre with their dreamy, clichéd and boisterous odes to love.
Alas when my friend and mentor, Lonn Friend, insisted that I see REO on their recent headline trek, I was a tad skeptical even if I own a few albums. He persisted and I found myself inside the gorgeous Rialto Theatre as the "Peter Gunn" theme music from The Blues Brothers soared throughout the theater before the band soldiered onstage and muscularly delved into "Don't Let Him Go" followed in quick succession with "Take It On The Run". This beloved two-some immediately took hold of the audience and transported them to another world where they didn't have to think about their daily responsibilities and where they could kick back and let loose for a few hours.
It may very well be 2008, but don't tell that to anyone in the sold-out crowd at the Rialto where "Keep Pushin'" appeared to be truly timeless as the band delivered an assertive and pliable version for everyone to grasp onto. The ever faithful and rousing "Time For Me To Fly", "Can't Fight This Feeling" and "Back On The Road Again" all were rendered with acute note-for-note perfection without any unnecessary reworkings. Believe it or not, this current incarnation of the band has been together for almost eighteen years and is the longest standing line-up in their history. What staggered me more than anything was the attention they commanded from the crowd, who only accentuated these classic songs. Lonn was right; here was a band that warrants admiration and acclaim.
The band may have performed rock-solid renditions of classics, but the fresh material from their 2007 album Find Your Own Way Home amped the evening up another notch. On songs like "Dangerous Combination" and the title track, the band stepped forward into the future with the longing new material, while simultaneously having one foot securely instilled in the past, which is not a bad thing. This is a band who knows exactly who they are and don't pretend otherwise. "Smilin' In The End" is a quintessential REO song, but the live performance found the band poised with an adrenaline force and raw enthusiasm and hunger. This would have been a hit twenty-years ago. The band even dusted off "Building the Bridge" from a decade back on their underappreciated album of the same name. It was a nice addition delivered with an impassioned performance.
As the band briskly and unsubtly ran through the home-run portion of their set, the blue-collar crowd gushed with a potent mix of adoration and veneration. "Keep On Loving You", "Roll With The Changes" and "Ridin' The Storm Out" were pure ecstasy and found the band roaring through these classic tunes as I was truly awestruck at the grasp they had over this material. This wasn't a bunch of guys doing it for the money or because they don't know what else to do, but because they believe in widening their musical latitude and genuine love of music.
Despite any reservations you have about this band or their material, you can't deny the humbling power they demand and receive from their audience. Check your opinion of REO Speedwagon at the door because when you walk into one of their shows, expect to be bombarded with 100-minutes of pure melodic bliss. I'm not just talking about a trip down memory lane either. The band hit the stage roaring and the appetite never subsided constantly keeping the crowd engaged. Many may dismiss REO as a nostalgia act, but they couldn't be further from the truth as they tore through a number of rather impressive tracks off of their newest 2007 studio album, Find Your Own Way Home , including the lamenting title track. Def Leppard needs to step up their game this spring when REO Speedwagon opens for them, because if they don't, REO will gladly steal the show from them. Music doesn't need to be edgy or novel to be luminous, what the performer needs to do is to move you and when performing live, provide you with an experience that is luminating, releasing and completely unforgettable and that is exactly what REO Speedwagon did recently at the Rialto Theatre in Joliet, IL..
Anthony Kuzminski is a Chicago based writer and his daily writings can be read at The Screen Door and can be contacted at thescreendoor(at) gmail.com.
---
RELATED LINKS