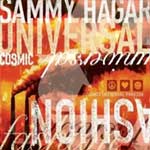 Poison might think that they're the 'Nothing But A Good Time' rockers, and KISS penned the iconic classic 'Rock And Roll All Nite,' but no one parties as hard as Sammy Hagar. The Red Rocker simply opens his mouth, and following one of his trademark screams, a Cabo Wabo Tequila toting bash ensues.
Hagar, who's been in the music scene for three decades, has sold more than 20 million records, and who won two Grammys is far from slowing it down to 55 any time soon. His new album on Loud & Proud Records, Cosmic Universal Fashion, marks his eleventh solo release.
The title cut, "Cosmic Universal Fashion," kicks off the disc and was written as a collaboration of Hagar and an Iraqi band in Baghdad -- and online, no less. How cool is that? "Cosmic Universal Fashion" is a groovy, gritty tune that will have you immediately bouncing in your seat.
Next up is "Psycho Vertigo," a hypnotic rocker, and then the larger-than-life "Peephole" -- a contemporary sounding tune with a bite you'll beg to endure again after one listen.
"Loud" has got a classic Hagar sound to it and the quintessential zooming-down-the-highway kind of feel.
Now hold on to your hats - next up is a cover of the Beastie Boys' famous and infamous "(You Gotta) Fight For Your Right (To Party)." Very few artists would be able to remake this and pull it off but it's so Hagar one wonders how he didn't write this song first anyway.
"Switch On The Light" has got a slight bluesy, rugged rhythm, and then switching gears yet again, Hagar's "When The Sun Don't Shine" almost has a country feel to it and is just a tad reminiscent of Van Halen's "Finish What You Stared."
" 24365" is a tune better experienced after your daily dose of caffeine -- Hagar's level of energy is over the top as always. Followed by, "I'm On A Roll" -- another high octane rocker -- Hagar may be on a roll, but he's also all warmed up and ready to dish out any kind of rock and roll butt kicking necessary.
Wrapping up the disc are live solo versions of the 'Van Hagar' hits "Dreams" and "Cabo Wabo."
Hagar fans will delight in this new release, it's the Hagar that they know and love but as always, with a few fun surprises. And be it with Montrose, Van Halen, HSAS, or his solo work -- Sammy Hagar simply knows how to put together a rocking good time and Cosmic Universal Fashion is no exception.
---
RELATED LINKS