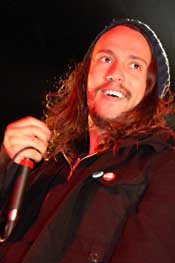 The band Saosin was an instant success and gained recognition online for their 2003 EP. Vocalist Anthony Green left the band after the band's first record and a public nationwide audition then took place to replace him. After the audition process and several guest vocalists on demos, Cove Reber, was announced as their new permanent lead singer. He may have not been the band's original singer, but he was a major influence is the growth and popularity of the band's first full length self titled album. The band will be releasing a DVD/EP package and is headlining a 2008 US tour. Cove took the time to answer a few questions at one of the recent tour stops.
What made the band choose a major label like Capitol over an indie label?
We have more opportunity. When we were meeting with people such as managers, booking agents and labels, we wanted something that would work the best for us. Capitol didn't have a band on their label that sounded like us. Other labels had five or six bands that sounded like us and we didn't want to be pushed to the back. We wanted to make sure we were paid attention to and Capitol has given us a ton of freedom and it taps into what we do creatively.
How come you seem to sing more and scream less lately on the tracks? Is it a new direction with the band's overall sound?
When we were writing the record and I first got the demos, the guys told me to try to sing so they can hear my singing voice and less of my screaming voice. I took that mentality in writing. You got to look at the time too. When the first record came out, it had a lot of screaming and singing with the range that Anthony [Green] had, which wasn't very popular yet. Then bands started trying to copy bands like The Used whose record came out and was amazing. People started copying and it sucked because it became generic and predictable. When writing this record, we tried not to make anything conventional and to make melodies that were emotional. We didn't want to predictable like in the breakdowns. Kids always expect screaming in the breakdowns but we just didn't give it to them. If you showed me a band I never heard, I could probably tell you when they were going to scream and when they weren't. It gets that predictable. That is why we wanted to go into a new direction.
On your myspace you dedicated 'You're not alone' to the men and women serving in the military, as well as their families. How did you come up with that idea?
Originally I wanted it to be more of a video instead of a collage of photos. I wanted it to be kind of like Mike Shinoda's Fort Minor video for 'Where Did You Go' but I wanted to do it about the men and women who serve in the military and their families. However, we realized that that would cost a lot of money and a heck of a lot of time. We realized that the holidays were coming up and we just wanted to get it up so we put some pictures together that we found that were inspiring and touching. It was a form of us giving back and showing that we do care about them and all that they do. I think the amount of views on it prove that people are connecting with it. We have gotten emails and letters about it and it is nice to see that we have that kind of influence on people.
You announced that you are releasing a DVD. What should fans expect?
It is a DVD and EP package. Fans should expect what they expect live from Saosin. We filmed it entirely ourselves. We found, hired, and paid the people to come out and shoot the DVD. We edited the DVD ourselves and recorded the music ourselves. Everything was done by Saosin. I hope people know that when they are watching the DVD because I think labels usually come to the band about it. However, we went to the label and said we wanted to do a DVD and they said that it will cost a lot of money, time and all this other stuff. We decided to film it all by ourselves and then show the label what we had. At that point we left it open for them to have their say. That is something that people might not know but I would like them to know. It just makes us more proud of what we are putting out since we put some much time and effort into it. We watched other DVD's to see what we wanted to put in ours and we are so proud of the outcome. It is amazing. The EP contains different versions of songs that we have out. It displays the musicianship of Saosin. I think that people sometimes forget that we are not a one dimensional band and that we can do multiple things. I think the CD that comes with the DVD really shows that off. I am excited to put it out and it is going to be awesome!
You kind of have an underground song named "Show me your booty hole." It has a rap feel to it. What was the inspiration for that song and I heard something went on during your DVD filming show. Can you elaborate?
'Show me your booty hole' is a song that was created by a few members of Saosin and some guys from another band. They got really bored one night and started making rap beats that developed into a couple of songs. It is not Saosin at all. It is actually a group called B2C and people just associate it with us because it involved a couple members of our band. It is funny because we get that yelled out way more than 'Voices' or 'Seven Years' at shows. It is funny because it leaves the response wide open. At the filming in Philadelphia I told some kid, I was like 'hey if you want us to play that song you got to show me. You got to show me yours and then we will play it' and the kid just dropped his pants. He showed us his butt and it was kind of funny. We were going to play the song but we ended up not because it is a hip hop song so the music would have to been on a track. I don't rap or sing in it so it is really not my song so we would never be able to pull it off.
Do you openly support any organizations or causes?
There are a lot of great organizations out there. It sucks because a lot of the good ones don't get recognition. The people who work for RAINN are great. It is a hotline that you call. It is called the Rape, Abuse, and Incest National Network and if you are being abused in anyway or sexually assaulted you can call 1-800-656-HOPE. They put you in contact with someone in your area who can try to help you with the problem that you are having. Whether it is physical or verbal abuse they try to help the kids. I think when people are abused they don't want to talk about it but they need to talk about it. They need to know that they aren't alone. There are a lot of people out there being abused and it is unfortunate and it will never end. However, if you get help at a young age, you are more likely to help solve your problem.

I also really like the organization Invisible Children. They are doing great work in Africa and Uganda. They try to raise awareness about these kids who are basically taken from these villages in Uganda and they are being forced to fight for the militants. When the militants go into these villages and start taking the young children, in order to scare them immediately they take them to a place called The Bush and they kill one of the kids. It is very unfortunate and there are many kids over there that are scared and dying. This organization is trying to raise money so that the kids who are rescued from these militants can be educated and get help because these militants do brainwash the kids. The organization helps them ease back into a normal life.

They are both amazing organizations and you can find them on our website or www.rainn.org , www.invisiblechildren.com.
I iinterviewed The Bled at Projekt Revolution and when I asked them if any pranks were pulled on them and they responded:
Jeremy Talley : I think Saosin put a dozen rotten eggs in our air conditioner.

Michael Pedicone : Real bad eggs. You can still smell it now and again but not every day.

Jeremy Talley : We can't prove it but we are suspicious.

Michael Pedicone : You know those bottle stink bombs? It smelled like that. They probably threw those on here those dicks.

Jeremy Talley : Yeah they are jerks. (Laughs)
Is there any truth to this claim?
(Laughs) We will leave that as a rumor for now. (Laughs) No comment. There bus was the black pearl out of all the busses on that tour. It probably was the captain who was driving the bus because he smelled really bad. I will neither say we did or didn't do anything to them. (Laughs)
---
RELATED LINKS