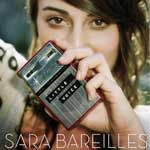 In this age of single song download artists it's a rare treat that Sara Bareilles has written an entire cohesive release that surprises and satisfies without coming off as a sonic snack. With each spin of her current release Little Voice, your musical pallet will be treated to the sweet, sour, salty and bitter aspects of life and all without gaining the weight of the world. Sara's musical menu has elements of Sheryl Crow swagger with Fiona Apple's fortitude. Sara's music doesn't promise a typical "Love Song," her first single off this release, but there is an extreme amount of passion contained the 12 tight tracks.
"There will be girls across the nation that will eat this up", is the pinnacle phrase from her second single "Bottle It Up," as she sings about Love, Love, Love. It's somewhat reminiscent of Paul McCartney's "Silly Love Songs," but with edgier lyrics. It's ironic that one of the most produced sounding songs on the release really needs the over-the-top production aspect to get its point across. The back up vocals are sweet and demure. You can practically hear Sara giggling in the background, if that's possible.
On the other hand the songs "Vegas" and "City" are soul-searching selections for dreamers and romantics finding themselves alone at 3:00 a.m. with the need to just hold on to something. Sara's not-so-little-voice gives strength in these bitter hours where we try to find meaning in the world around us.
Any doubt that she's a soft spoken singer songwriter is obliterated with the one-two punch of the songs, "Come Round Soon" and "Morningside." Both are heavy pounding key tunes that utilized a more sour tone. Just because she's packaged as demure singer songwriter pianist doesn't mean that she can't get dirty.
The salty side of Sara comes from the biting commentary of modern day romance told in the song, "Fairy Tales." It's a wakeup call for all those princes out there that fail to provide a happily ever after. She dose leave a bit of hope out on the horizon with the closing song "Gravity." Pay attention to its message, because it just might be the advice you need on how to treat someone right.
Little Voice is a misleading title because Sara Bareilles has a dynamic voice that interweaves seamless into melodies that stand the test to time. As long as she doesn't loose her sense of rhyme and rhythm Sara's music will continue to delight the musical tastes of the masses. My compliments to the chef!
Love Song 4:20
Vegas 4:07
Bottle It Up 3:00
One Sweet Love 4:20
Come Round Soon 3:33
Morningside 3:58
Between The Lines 4:34
Love On The Rocks 4:13
City 4:33
Many the Miles 5:11
Fairytale 3:14
Gravity 3:53
---
RELATED LINKS