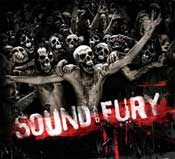 Hard rock is the last thing to come to mind when you think of Canada. Sure, the years past have seen a kind of Canadian Invasion, with bands like Broken Social Scene, Metric, Tegan & Sara, and Billy Talent hitting it big in the US. But none of them rock in the classic sense, the way bands like Led Zeppelin or AC/DC did in their heyday.
That's where Toronto band, Sound and Fury come in. Their self-titled debut is a mix of AC/DC at their thunderous best and furiously fast rhythms a la The Ramones and The Misfits. Formed in 2006s by singer/songwriter Luke Metcalf, Sound and Fury concerns itself with only two things -- rocking harder than anyone else and getting people to party.
"Right from the start I knew exactly what I wanted when I wrote the music and lyrics for this album," Metcalf says. "I wanted to make a killer rock album to party your ass off to...an album to let loose, leave all the bullshit behind and run wild to."
And that's exactly what you get with the album -- unrelenting rock music that gets your blood pumping fast and makes it seem like a good idea to thrash around your apartment, smashing things up and raising a ruckus.
Yet, for all Sound and Fury's hard rock glory, Metcalf's initial inspiration for making music didn't come from listening to Led Zeppelin or AC/DC. "When I was four," he says, "my brother played The Beatles for me. And, from that moment, I thought rock n' roll was the greatest thing humans had created."
But before he sat down to record demos for what would eventually be refined and reshaped into Sound and Fury's debut, Metcalf lived a life that was anything but a non-stop party. As a teenager, he was kicked out of his house and expelled from three high schools. Penniless and without a home, he found work on a farm and saved enough money to move to California. Once there, he moved around, finding shelter in everything from a friend's car to a motel room frequented by local street punks. "You really live in the moment cause your whole focus is trying to survive for that day," Metcalf says, "trying to get food and have some kind of good times."
And he did have some good times throughout his years of living on the edge. He drank, smoked, and met people who knew the saving grace of an all-out party. This run-wild- and-party philosophy ultimately formed the basis for Sound and Fury's approach to their music. It's an approach that fits well with the band, as it has for so many great rock bands in the past. But, if VH1's Behind the Music has proven one thing, it's that too much drinking, smoking, and party-infused rock can be bad, even fatal. not to worry, though. Metcalf practices moderation. "Party your ass off and living in the moment are great," he says. "But I only do that off and on because no one can live like that all the time."
Sound and Fury's debut starts off with School's Out, a high energy song from start to finish that has the heart of hard rock with the heart-stopping tempo of The Misfits. Things slow down a bit with Can't Get Enough, a heavy, power-chord driven number that would make AC/DC proud. Eighteen is straight-on punk rock, with an air of rebellion and freedom that is the essence of the genre. For music connoisseurs or those who are old enough to remember, the album will be a trip back to 70s and 80s, when bands like Black Sabbath, Led Zeppelin, The Ramones, and The Misfits were in their prime.
No doubt about it -- this album is, in Metcalf's words, "No bullshit rock n' roll to party to. Anyone who loves to rock and loves to party will love our music."
Having released their debut earlier this year on Rebel Youth Records, the boys of Sound and Fury have hit the road to play their songs live. They just finished one tour and are set to embark on a US tour this fall with Bang Camaro.
For now, Sound and Fury just wants to play their music in front of as many people as possible. Their next album won't be coming out any time soon, Metcalf says.
Go to http://www.myspace.com/soundandfuryrocks or www.soundandfury.com to learn more about the band, check tour dates, or to hear some songs off their debut.
---
RELATED LINKS