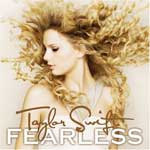 Fearless, Taylor Swift's sophomore release is a collection of 13 memories that sound like notes passed from one friend to another during class. Happiness and heartbreak swirls beneath those blonde curls as she steps up to the microphone and tells her tails of woe and wow. How she found time to have several relationships in the midst of touring for the past two years is unfathomable. These songs are her senior yearbook and she's taking us back to school; memoirs of a young girl's heart.
Taylor continues to be the pretty wallflower at the party and makes no apologies for her observations. She's a writer's writer; and sees what others can not or refuse to realize. The energy of Fearless is a slight departure from her first self-titled release, but still has the country roots intact. The sound is less fiddle and banjo and more violin and guitar, though all instruments are represented on this release. It's pop with a little twang thrown in and needs to be played a loud.
One should be weary when keeping company with Taylor. In the song Hey Stephen she stays true to her mantra of being direct and cleaver in connecting with her object of affection, though they may not suspect. The lyric "All those other girls, well they're beautiful but would they write a song for you," is punctuated with a giggle. And of course she has her tirade song, Forever & Always so be careful of what you say to her, because those words can be thrown back at you.
Taylor is the kind of girl you root for in one of those stories where a princess rises out of the cinders and gets her prince charming. The fairy tale theme is at the core to her current single entitled Love Story. This time the Romeo and Juliet theme doesn't end tragically. It showcases that love can be difficult, but if it's real then all of the trouble you go though is worth it. This isn't to say that all of her songs are full of naïveté. Having a writing credit on all tracks, seven of which were written solely by Taylor, she has pared with a couple of co-writers that continue to stretch her song writing ability.
Taylor reunites with Liz Rose for four songs including the profound, White Horse. The song goes beyond the fairy tale aspect of a relationship and deals with the reality that sometimes it just doesn't work, even when you want it to. Taylor really get's it, with the lyric: "This ain't Hollywood, this is a small town. I was a dreamer before you went and let me down. Now it's too late for you and your white horse to come around." Love is a time and place and if you don't take a chance it just fades away.
Another profound moment on the release is the heartbreaking Breathe, which she wrote with Colbie Caillat. Their voices intertwine lovingly in this bittersweet ballad that leaves you longing for your own love lost. This is by far the best track on the record. It transcends time and place; holding no grudges or animosity. Its lovely sadness is like the closing of a movie where the lovers don't end up with each other and find it hard to move on, or even to just breathe.
The title track Fearless, as well as Change, summarize the whole Taylor experience. There's just something about her that makes you want to stand up and cheer. She is the pretty princess who has loved and lost but still remains hopeful. Somehow in those lonely moments out there on the road you realize that things can change. Maybe that is where she got her inspiration for the songs on this record. Taylor says it best in the liner notes (and look for secret messages in the lyrics; it's a capital idea, "Fearless is living in spite of those things that scare you to death."
Fearless 4:02
Fifteen 4:54
Love Story 3:55
Hey Stephen 4:14
White Horse 3:54
You Belong With Me 3:51
Breathe 4:24
Tell Me Why 3:20
You're Not Sorry 4:21
The Way I Loved You 4:04
Forever & Always 3:45
The Best Day 4:05
Change 4:40
---
RELATED LINKS