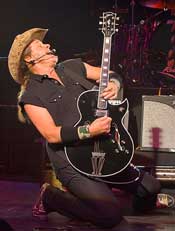 Ted Nugent a.k.a. Uncle Ted is one of the most controversial figures in and rock and roll for his political and personal beliefs. People either love him or hate him. One thing is absolutely for sure; he has his views and will not apologize for making them known - Nor should he.
I was excited for Uncle Ted's visit. He played at the Celebrity Theater in Phoenix which is "In the Round." I have attended many concerts at this venue and I have never seen it where they have all the seats opened up. I have never seen the stage rotate (although I knew it did) most acts don't utilize this feature. The stage was set up with the usual arsenal of guns, and crossbows, animal skins, and American Flags but this time he also had a giant Hand grenades with a pink ribbon painted on the side to tie in with the new album title Love Grenade.
The almost 60 year old rock legend took the stage with an immense amount of energy and passion. You can tell that he loves what he does and gives 110% at every performance. He played the classics that every Nugent fan wants to hear at his shows such as Stranglehold, Cat Scratch Fever, and Wang Dang Sweet Poontang.
The rest of the band consisted of just two people – Mick Brown ex-Dokken drummer and bassist Greg Smith who sang crowd favorites - Hey Baby and Need You Bad . The sound coming from the speakers certainly sounded larger than just three people. It was loud and aggressive just as Ted and his opinions are. Being in Phoenix and so close to the Mexican Border Ted's rant on this night was in part about illegal immigration and speaking English in America. The crowd always goes wild when Ted goes on his rants.
After whipping the crowd into a frenzy, the band continued the set with Stormtroopin', Dog Eat Dog, Weekend Warriors and Love Grenade. The show was typically Ted and if you are a fan go check out the show. You won't be disappointed.
---
RELATED LINKS