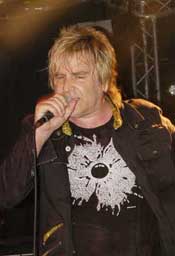 Whales based new wave/punk rockers The Alarm are certainly enjoying their summer. They are currently on tour with The English Beat and The Fixx on the Rockin The Colonies tour promoting their latest CD release entitled Guerilla Tactics. Back-up to 1981 when the band was formed by the talented guitarist and emotional lead singer Mike Peters. They had a strong following in the UK, but broke out nationally when Bono from U2 recommended they be their opening band on their upcoming War Tour. Since then, The Alarm has sold over 5 million albums worldwide and they continue to tour nationwide showcasing their power driven live shows.
The show led off with their new punk-driven song Three SevensClash, which has also started getting radio exposure. A few other news songs that showed great crowd reaction were AlarmCalling and Situation Under Control. They also did a few of their classics like Strength, Sixty Eight Guns, and 45 R.P.M which had the crowd at Cubby Bear rockin' to each beat. Mike Peters still has his incredible passionate yet fierce vocals on each song. His other band members include Craig Adams on bass, Steve Grantley on drums, and James Stevenson on guitar. The Alarm did not disappoint. Their energy was intense and each song was burning raw packed with emotion.
You will not hit snooze when The Alarm rings into your city on their current tour.
---
In an exclusive one-on-one interview with Unrated Magazine, Mike Peters sat down after the show to discuss the making of Guerilla Tactics, his health, and the tour.
Anita Maree Lande: Mike, congratulations on the album release. How well is the new album being received in the U.K. and elsewhere?
Mike Peters: Thanks! The response has been fantastic. The new album has been featured in a few U.K. magazines and Three Sevens Clash has started getting radio airplay.
Anita: Mike, how did you hook up with Gilby Clarke (Guns 'N Roses) to mix your new album?
Mike: Slim Jim Phantom (The Stray Cats) knew Gilby. Gilby is a huge fan of The Alarm. Gilby was available so he mixed the songs on Guerilla Tactics and did a fantastic job. The mixing all took place in Los Angeles.
Anita: Right at this moment, what are your top three favorite songs on Guerilla Tactics?
Mike: As of right now; Three Sevens Clash, War Cry, and Love Hope and Strength.
Anita: Great choices! I want to discuss Love Hope and Strength with you. First, how is your health? You look great and I realize you had a battle with cancer.
Mike: Yes, I had a battle with Leukemia and I am currently in remission. I will see the doctor when I am back home. At least one thing good is that I still have all my hair.
Anita: Talk about playing the song Love Hope and Strength when you were nearly 19,000 ft on top of Mt. Everest. What was that experience like?
Mike: It was a not just a physical experience but a spiritual and emotional journey. A few other musicians joined me on the mountain climb to perform the World's Highest Concert and I am told in September, MTV will air the performance since it was filmed.
Anita: Awesome! (Mike also started a cancer charity and more information can be found at www.lovehopestrength.org.) Mike, let's take a step back about twenty some years ago when U2 asked The Alarm to go on tour with them. Describe what happened.
Mike: It was basically mind-blowing! Bono and the Edge were huge fans of our music so that is why we were asked to accompany them on the War Tour. I can remember the plane landing in L.A. and from that moment our lives changed forever.
Anita: What bands were you influenced by when you were getting started musically?
Mike: Basically many of the punk bands in the U.K. Bands like the Sex Pistols, The Clash, and Buzzcocks.
Anita: Mike thanks for your time! Good luck with the new album, your health, and the tour! Keep rockin the colonies!

For more information on their latest album, tour, and charity, check out:

www.thealarm.com and www.myspace.com/thealarm and www.lovehopestrength.org.
---
RELATED LINKS