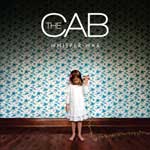 There won't be many people whispering about this disc after hearing even the first few minutes of incredible music these young guys from Las Vegas have been able to put together. The disc starts off right away with one hell of a catchy song that features a great guitar riff, and music that resembles the sound of label-mates Fall Out Boy and Panic At The Disco (all on Fueled By Ramen)... helps too that both Brendon Urie of PATD and Patrick Stump of FOB have vocals in the first song. Stump helped produce The Cab's first release and assisted in getting it released on the Decaydance imprint. With the majority of their songs just being straight-up rock, there are a few songs that almost cross over into punk rock scene, others that are pop punk or maybe even just pop, but according to lead singer Alex DeLeon, that's exactly the way they want their sound to well... sound. On FueledByRamen.com DeLeon says "I think people like to categorize bands by attaching them to a specific scene, but I don't want to be thought of as a certain kind of band. I want to cross over to other communities and have as many people hear us as possible," he continues. "I never want to be contained to one group."
I think they have done exactly what they set out to do. I have passed this disc off to numerous people, even after only really listening to the first few songs because they have an incredibly likeable sound no matter what genre of music you listen to. I passed the CD around as fast as possible, because you can tell immediately that they have got something great, and they are going to 'blow up' like crazy very soon.
When looking to pick out a few standout songs on "Whisper War," it seems almost an impossible task. Every song is as good as the next, and they all have different things to offer. You know it's an amazing disc when you can't even pick out a few must-have songs, but here are a few to get started with. For those looking for a more up-tempo rock song, check out the first song on the disc, 'One Of Those Nights' as it jumps right into fast-paced guitars and drums...It'll get you wanting to dive into the rest of the CD as fast as possible. The Cab perfectly incorporates piano into their songs and also throws some violin into 'Vegas Skies' for just the right complement to this slower song. If you want to jump back into the faster tunes again, then this disc ends on a flawless note with 'This City Is Contagious.' So the point is just listen to the whole disc and you'll be more-than-satisfied!
I can't wait to see what kind of live show these guys put on, and if they are able to take a page from the Fall Out Boy and Panic At The Disco concert books, they will be just fine. Fueled By Ramen has another HUGE band in their grasp and they better hang on tight, because these guys are young and are going to make some kick-ass tunes for a long time to come!
"Whisper War" track listing:
One Of Those Nights
Bounce
I'll Run
High Hopes In Velvet Ropes
That '70's Song
Take My Hand
Risky Business
I'm A Wonder
ZZZZZ
Vegas Skies
Can You Keep A Secret
This City Is Contagious
---
RELATED LINKS