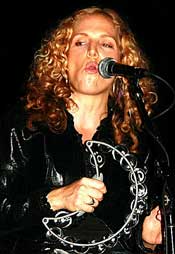 2008 found some big changes for the powerhouse vocalist Cassidy. For nearly ten years she was the voice and driving force behind the female band Antigone Rising. Earlier this year Cassidy announced a break from AR, and she is now recording and writing new songs and stepping out to introduce her new band called– The Cassidy Project. While in Chicago , Cassidy was joined on stage with guitarist/vocalist Matt Beck, who has toured with Rob Thomas and gang from Matchbox Twenty. This intimate hour showcased some new songs she recently has written as well as some of her insanely popular songs from her years with her former band. She gave some interesting background of a few new songs like Dog and Pony Show she wrote after watching TMZ – the T.V show that videos celebrities anywhere and everywhere the paparazzi can sneak their way into. The sensitive and chilling Crawl is a song she wrote about the personal changes and the uncertainties that can happen in life and Feelin' the Love has an upbeat tempo as Cassidy announced she found someone special in her life. The Chicago crowd gave thumbs up to these new songs and then rocked to her classics like She Lived Here, Better, Long Shot, and the timeless song and one of her all time best Broken.
The Cassidy Project is just warming up. Keep an eye out for the band as they are plotting and scheming for their next big adventure.
For information on purchasing their live CD – Rainbows and Unicorns and tour information visit: www.thecassidyproject.com, myspace.com/akacassidydotcom.
---
RELATED LINKS