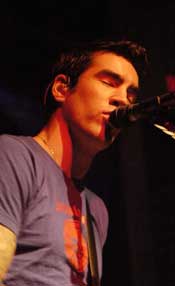 Since the April 1st (2008) release of sophomore album 'Scars and Souvenirs', Theory of a Deadman (TOAD) have been rippin up the stage with their take of a real world filled with hurt, happiness and best of all.. Laughter.
TOAD guitarist David Brenner said that their third album has more songs than any of the other albums and that the band wanted to show their fans another side of them.
"Old school fans will all look forward to a great sense of humor," said Brenner "We never really put that into a record, but we are a band with a sense of humor."
That shines through in the anthem that everybody at one point in their life can relate to and that is 'Hate My Life'.
Who hasn't mumbled to themselves at least once or a million times the oh so true chorus of this timeless song? "I hate my job, all of my rich friends; I hate everyone till the bitter end. Nothing turns out right, there's no end in sight, I HATE MY LIFE"
And what guy wouldn't crack a smile at 'Bad Girlfriend' knowing that all little boys fantasize of having the coolest, dirtiest, badass girlfriend around and then if your lucky enough to find her it was really too good to be true.
This album also sees the softer side of singer Tyler Connolly in the beautiful lyrics in 'Wait for Me' which is focused to his wife and 'All or Nothing' which gives fans a new age love song for all.
Brenner said that the band has been touring in support of their newest collaboration and that life on the road is a 'love/hate relationship'.
"I always loved music. I loved listening to it and wanted to make it," Brenner said. "I picked up a guitar and have never left it. It was a new level playing live in front of people than in my bedroom, now I know how people who climb Mt. Everest feel."
Growing up Brenner listened to a mixture of genres, which can explain the unique, melodic sounds that float from his array of different guitars. David listened to the likes of Elvis, The Allman Brothers with a little country mixed in until the grunge era happened along.
"The Alice in Chains/Soundgarden scene hit us like a big handed slap in the face," said Brenner.
Being a rock star can have its advantages and disadvantages.
"Touring is like almost living the same day over and over again," Brenner said. "It just changes where and who you are playing with."
"It's not like a 9-5 everyday, it's exhausting at times," Brenner said.
To pass the idle time by David said that he and his band mates play a lot of video games and watch movies.
One of the advantages that Brenner said he reaps is being able to watch bands that he idolizes himself.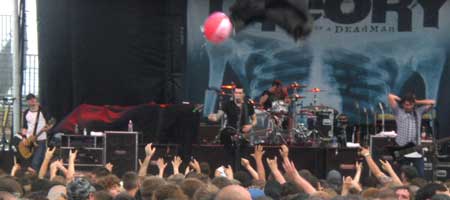 On May 17th Brenner got to watch the reunion of one of his favorite bands 'Stone Temple Pilots' from side stage.
"The whole day was a major trip. It was amazing watching with all the other bands to the side," said Brenner. "I was looking at my buddies thinking 'I can't believe this is going to happen'".
Brenner said that it is important to keep yourself grounded. At this point in his life David hasn't had any children just for the simple fact that he doesn't want to be on the road and miss it all.
Brenner said that the key to being a band with staying power is to stay fresh. Theory of a Deadman has a sound that is different from other bands. David said that Theory always stays honest with their selves as a band and to their fans. They are not playing a roll and don't try to bullshit their way through it.
"Remind yourself what life is all about," said Brenner said. "It is an honor to do what I do."
Brenner along with TOAD singer Connolly and bassist Dean Back will be supporting 'Scars and Souvenirs' all summer with dates booked with Shinedown, Black Stone Cherry, Staind and Puddle of Mudd.
---
RELATED LINKS