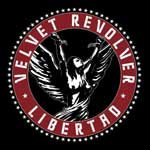 It's funny how second albums can be so polarizing: Weezer's Pinkerton, Hendrix'sAxis: Bold as Love, and REM's Reckoning immediately come to mind. Audiences shrink, sales suffer, reviews are mixed. Now, that's not to say that's the case with Velvet Revolver, today's sole proprietors of blazing, balls-to-the-wall, guitar rock. Their latest, Libertad, is anything but challenging. The bombardment of such raging rockers as "Get Out the Door," "Let It Roll," and "Pills, Demons & Etc," is mind numbing to say the least, but each would not have felt out of place on their successful multi-platinum debut, 2004's Contraband.
Yet there lies the problem. Libertad is a dull, monotonous, reproduction of their debut. The first single " She Builds Quick Machines" adds little, if any distinguishable flavour, while the emotionally charged "For a Brother" and the grandiose "The Last Fight," each heart-on-the-sleeve arrangements (the former deals with the tragic loss of singer Scott Weiland's brother to a drug overdose), are fundamentally 80's and early 90's style power ballads, dressed up in a contemporary package.
Instead of gleefully confusing their audience with a thoughtfully constructed concept record (as Weiland reportedly envisioned early on) or shudder to think, releasing something with more depth and layers to it; Libertad is basically a rehash of the music from the member's previous groups, without the novelty. And unlike Weezer and Jimi Hendrix, who both pushed musical boundaries with their second albums, Velvet Revolver seem content with the status quo, which, non-surprisingly, has resulted in a considerable loss of commercial appeal and musical relevancy, alternately sowing the seeds for a possible future break-up.
3/5
---
RELATED LINKS