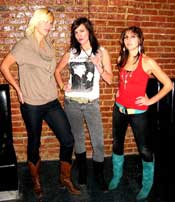 San Francisco's own Von Iva cracked their whips in Chicago to showcase songs from their latest released CD -- Girls On Film. The female trio consists of Jillian Iva on vocals, Bex Kupersmith on keys, and Lay Lay (Kelly Harris) on drums. This band is a definite 'must see live' as the energy the three transmit on stage just powers down to their fans as the Chicago crowd was jamming to their beat. Their music is mix of pure punk, soul, and sensuous disco moments.
In an exclusive interview with Unrated Magazine, the band is elated with their latest CD release and Bex added that the songs are a little more produced sounding but they still have the raw edge to them. The band has many musical influences: Lay Lay selects Mick Fleetwood and New Order, Bex likes Kylie Minogue and Deep Purple, and Jillian was inspired by Motown and Tina Turner. Jillian also discussed the band's excitement of writing songs and being specifically asked to appear in the Jim Carrey/Zooey Deschanel upcoming moving -- Yes Man -- opening December 19th. The girls wrote four songs for the movie and they will be performing in the movie. This will be a huge boost for the girls. Not many bands get this type of status without even being on a major label. But with their unique sound and take charge attitude the world will get a better peak of their talents.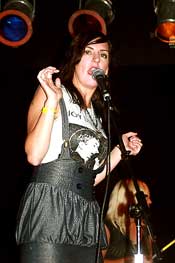 Von Iva started the night off singing Hypnotize which followed into their dance-soul, high energy Guise. Other favorites included LaLa and they introduced their move song Yes Man which received thunderous applause. It is hard to stay focused on just which one of the girls to watch. Jillian has such strong stage presence that you just want to get up on that stage and dance with her, Lay Lay is thrilling to watch on drums, and Bex is such a petite girl delivering huge amounts of bass sound from her keyboards. Other songs performed included Not Hot To Trot and they ended the night with their hard-core No Man.
Von Iva is a definite band to keep your eye on with all their upcoming appearances, oh...and a fair warning...you must see this band live to get the total Von Iva smashing experience.
---
RELATED LINKS