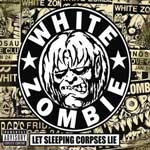 In the spirit of thanksgiving, I must give thanks... to the Gods of Rock N Roll. If not for them giving inspiration to Rob Zombie and all associated, I would not have been able to re-experience the ultimate heart-pounding, jaw-dropping, "OH MY GOD I LOVE THIS SONG, GOTTA HAVE THIS ALBUM' feeling I got the first time I heard White Zombie. With the release of "Let Sleeping Corpses Lie," a 4disc/1 DVD boxed set containing all White Zombie's 64 studio recordings, due out November 25th, I was able to re-visit that feeling and sooooooooo much more. This boxed set span's White Zombie's influence on metal, from their conception in 1985 to their demise in 1996, celebrating all that was ever twisted, strange, and unnervingly thrilling about this band.
From their beginning, with the first studio album release under their own label Silent Explosion, White Zombie evolved both their sound and image into an unforgettable montage of musical histrionics and horror.
The first CD in the boxed set contains 13 songs that feature all the tracks released on the Silent Explosion label. Four songs from Gods Of Voodoo Moon EP (1985,) two from Pig Heaven EP (1986,) and seven from the Psycho-Head Blowout EP (1987.) from here their music becomes far more saturated in metal and horror, captivating audiences and feeding the need in fans for harder, weirder and more hair-raising lyrics, bass and guitar riffs, and drum beats.
Disc two embodies all that was great from their first two full length albums, Soul-Crusher (1987) and Make Them Die Slowly (1989.) Of the 17 songs on this disc are a few of my favorites, "Demonspeed," "Godslayer" and "Die Zombie Die". All of which I have not heard in years and even a couple I'm not sure I have heard before, but thoroughly enjoyed.
And then disc three, containing 18 songs and where my prayers (to the Rock Gods of course) were answered in the form of the Kiss cover "God Of Thunder." I have been looking high and low for quite a few years for this song, re-created if you will, in White Zombie style (thank you, Rock Gods thank you!) This CD also contains such favorite's as "Black Sunshine," "Grindhouse (A Go-Go,)" and my one of my favorites "Thunder Kiss '65," which catapulted White Zombie into mainstream metal and enabled angst ridden youth (myself included) to bang heads harder then ever, much to the dismay of neighbors whom were defended by the decibels this song must be played at.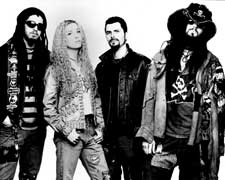 And then came disc four, containing 16 songs that cover the latter part of White Zombie's reign over the metal world. What else can I say but... THANK YOU Rock Gods! On this disc there are favorites such as "More Human Than Human," "I'm your Boogeyman," and "Feed The Gods," as well as the cover "Children Of The Grave," located on a Black Sabbath tribute album (1994.)
As for the DVD, I don't want to sound redundant but one must thank the gods (of Rock) when it is appropriate. Having never had the pleasure of seeing White Zombie live, this DVD allows me a glimpse of what I missed. It contains an array of live performances such as "Black Sunshine," "I Am Hell," and many more. Not to mention the music video's to some chart toppers like "I'm Your Boogieman," "More Human Than Human," "Welcome To Planet MF," and that's just the tip of the Iceberg. If you're a true White Zombie or Rob Zombie fan you must add this boxed set to your collection. How else can really appreciate the "musical horror show, dark pop culture,' and hardcore sound that made White Zombie all that they were.
Disc 1:

Gentleman Junkie
King Of Souls
Tales from The Scarecrowman
Cat's Eye Resurrection
Pig Heaven
Slaughter The Grey
Eighty-Eight
Fast Jungle
Gun Crazy
Kick
Memphis
Magdalene
True Crime

Disc 2:

Ratmouth
Shack Of Hate
Drowning The Colossus
Crow III
Die, Zombie, Die
Skin
Truck on Fire
Future Shock
Scumkill
Diamond Ass
Demonspeed
Disaster Blaster
Murderworld
Revenge
Acid Flash
Power Hungry
Godslayer


Disc 3:

God Of Thunder
Love Razor
Disaster Blaster 2
Welcome To Planet Mother Fucker/Psychoholic Slag
Knuckle Duster (Radio 1-A)
Thunder Kiss '65
Black Sunshine
Souls Crusher
Cosmic Monsters Inc.
Spiderbaby (Yeah- Yeah- Yeah)

Disc 4:

Children Of The Grave
Feed The Gods
Electric Head Pt. 1 (The Agony)
Super-Charger Heaven
Real Solution #9 Creature Of The Wheel
Electric Head Pt. 2 (The Ecstasy)
Grease Paint And Monkey Brains
I, Zombie
More Human Than Human
El Phantasmo and The Chicken-Run-Blast-O-Rama
Disc 5 (DVD)- Music Videos- Thunder Kiss '65, Black Sunshine, Welcome To Planet Mf, Feed The Gods, More Human Than Human, Super-Charger Heaven, Electric Head- pt. II (The Ecstasy,) I'm Your Boogieman, The One.
Live Performances- Soul-Crusher, Spiderbaby (Yeah Yeah Yeah,) Thrust!, Black Sunshine, Cosmic Monsters Inc., Thunder Kiss '65, Electric Head- Pt. I (The Agony,) I Am Hell, Welcome To Planet Mf, Creature Of The Wheel.
---
RELATED LINKS