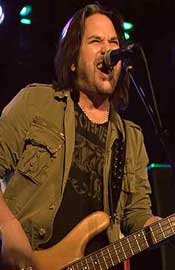 Upon entering the Martini Ranch in Scottsdale I realized it was a bit like cramming 40 people into a phone booth. The club was absolutely packed. Do you remember the tiny club days? Gazzarris? Troubador? Whiskey? Yea, It was that packed.
Up first was Big Cock. Now, you would think a band with a name like Big Cock would have a problem fitting their heads in the door (pun intended). With a name like that, they must be loud, obnoxious and arrogant - perhaps they are, but deservingly so. The band started out their set with Get A Load of Me from the new album Motherload which is the third CD from this group.
The band launched into Ride on Me and Stamina followed by Fucked Up and Real Man. In case you hadn't figured out by the band name, song and album titles, this band loves the double...er..shall I say, single entendres.
The band consists of singer Robert Mason (former front man of Lynch Mob and Cry of Love) and serves up serious vocal chops and has a commanding presence on stage. The killer riffs are provided by guitarist Dave Henzerling (a.k.a. David Michael-Philips of King Kobra, Keel and Lizzy Borden). Rounding out the heavy-hitting bottom end are John Covington (The Pulverizer) on drums and Colby on bass.
This band is a no holds barred, flat out, rock and roll machine. They pull no punches and go straight for the main vein... and by that I mean jugular (get your minds out of the gutter people). It is down and dirty, raunchy rock n' roll, and I like it!
The band also played Breaking My Balls, Bad MotherF*cker, MILF and King of Cool. They finished off the crowd with Built for Speed. Make sure you check out the video for this one at http://www.bigcockrocks.com/.
So, do you want Big Cock? Pick up the new album and make sure to check them out at a venue near you (just a warning - be prepared for a party). This band just might be the "Hardest Band in the Land" as they profess.
Winger -- the poster band for all the bad 80s hair metal jokes -- rocked to a packed house. Before the show, the guys were hanging out on the back patio with fans and friends. It was nice to see them just chilling out. They started off their set with Blind Revolution Mad followed by Loosen Up. Easy Come Easy Go was up next and that seemed to be one of the fan favorites. Everyone was singing along. Kip looked to be having a great time on stage.
The women of Martini Ranch were all piled up right in front of the stage to catch the show and the guys were really hamming it up. Your Great Escape was up next, Down Incognito and Rainbow in the Rose were up next. I loved Down Incognito. I am not sure I have ever heard that one before but it has a great hook and the crowd really seemed to be eating up all that Winger was dishing out. Kip and the boys seemed to like the more intimate setting of the club and really interacted with the fans.
The only complaint I had about the show was that there were two solos - a 10 minute guitar solo by Reb Beach and a drum solo by Rod Morgenstein. Now, they are great musicians, I will give them that, but It's not like they were playing a really long set to begin with nor were they playing to a packed stadium. It's a club gig and really the solos just have a tendency to lose the audience. I think it would have been a better use of their time to throw in just a couple more songs rather than watch someone solo.
I was very pleased that they played a lot of the hits - Easy Come Easy Go, Loosen Up, Headed for a Heartbreak, Seventeen, Miles Away and Madalaine. They all sounded great and the crowd loved it as well. They were singing right along with the band.
The band ended the show with Miles Away and Madalaine - excellent songs to send us off with. It's nice to see Winger back out on the road. Go check them out if you get the chance.
---
RELATED LINKS