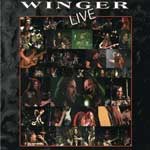 After having put out their fourth studio album, IV, just last year Winger hit the road - and in the process recorded their Live disc -- the recording of a show which really makes you wish you were there to witness the fireworks. A musical conglomeration of Winger of old and new - a fun, energetic performance by a band who has not only stood the test of time, but has aged with a respectable finesse whilst without losing any of that spark first ignited back in 1988.
Disc One opens up with some of the band's older material, from the hip-swinging "Blind Revolution Mad" off of Winger's 1993 release Pull, to the gritty and thumping 1990 songs "Loosen Up" and "Easy Come, Easy Go" both off of In the Heart of the Young.
Sans unnecessary chatter between songs, Winger slams out one sexy rocker after another. "Your Great Escape" whips out from the stage; its catchy melody relentlessly grabbing hold of audience members and listeners alike, then the bluesy "Down Incognito" undulates out with a grooving power. Kip Winger's vigor is as prominent as ever, yet he somehow makes what he does seem effortless -- the mark of a solid performer.
The dreamy "Rainbow in the Rose" comes next, continuing the flow of tunes from Winger's earlier days. Then Kip and company break out into "Generica" off of the band's most recent disc -- a contemporary rocker which demonstrates the growth of the band over the last two decades yet still fits in well with all that's come before it. The eight minute rendition of this song is a guitar lover's dream. The first disc wraps up with one of the band's older tunes, the energetic and fun "Junk Yard Dog."
Disc Two kicks off with one of my favorites off of IV, Winger's 2007 release -- "Right Up Ahead" which begins with a haunting acoustic guitar melody and then explodes into a controlled, rhythmic chaos with a momentary break in music which teases audience members into a frenzy. Axe slinger, Reb Beach's guitar solo is next -- showing off his well honed chops.
Then another cut off of In the Heart of the Young -- "You Are The Saint, I Am The Sinner" leads then into Rod Morgenstein's bashing and crashing drum solo.
The show continues then with even more of a unification of Winger old and new -- a quintessential aural repertoire of a band who has endured the passing years, and blossomed beautifully and honorably as such.
"Headed For A Heartbreak," the sultry "Can't Get Enough," and the inevitable Winger classic "Seventeen." Followed by "Who's The One," the heart-string-tugger "Miles Away," the bold "Madalaine," and an acoustic version of the tender "Blue Suede Shoes."
It often seems a feat in itself for rock bands to sound as good live as they do on their albums -- but Winger has surpassed that and triumphed by putting out a quality recording with memorable renditions of so many of their songs. If anyone out there hasn't checked out Winger again since the late-80s they're definitely missing out -- but the catching up will be one hell of an enjoyable and rocking ride.
---
RELATED LINKS