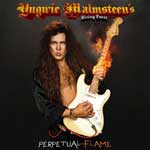 One might think it would be easy to write a review of a studio album by Yngwie Malmsteen but it's actually quite a daunting task. It's not like you can point out how awesome the guitar solos are on this song and that -- every solo is amazing, each song is arranged really well and both produced and engineered with flawless precision which incorporates more than two and a half decades of musical experience and expertise.
And though the world of Yngwie Malmsteen is one of Vikings and dungeons, devils and horsemen, his playing and style is just as fantastic - but in that stellar, rare way of a true virtuoso.
Maestro Malmsteen is far from slowing down or getting soft and he has outdone even himself in his new release. Released on Rising Force Records [distributed by Koch Records] Perpetual Flame is an enchanting peregrination through 12 songs that tap into the emotion of music.
This album is far from being a record by a guitar hero who simply went in to the studio to lay down his tracks and finger-tricks and then was done with the entire process. Not only did Malmsteen write all the music and lyrics but he produced and engineered the record as well, and also kicked in the bass, additional keyboards, and some vocals. Mixed by Roy Z (of Judas Priest and Bruce Dickinson fame) Perpetual Flame is a powerhouse of aural bliss.
Opening the disc is the mighty "Death Dealer." A forceful tune with a solid, rhythmic drive, and ballsy vocals which is Tim "Ripper" Owens' forte. Malmsteen's methods for weaving a song together don't just offer you a five-minutes of listening pleasure, his music takes you on an odyssey.
"Damnation Game" comes next -- melodic-metal at its finest. Malmsteen's solo is fancy but not simply the guitar fireworks he's capable of. There are also some cool vocal harmonies on "Damnation Game" as well.
"Live to Fight (Another Day)" is a larger-than-life rock anthem. It's hypnotic and sexy whilst wafting out your stereo speakers with a heady backbone in its sound.
Following "Live to Fight" is the catchy "Red Devil" - a rocker that will haunt your memory after just one listen. And Malmsteen fans will be beside themselves with glee once they hear the solo in this one.
On "Four Horsemen (Of the Apocalypse)" Ripper's vocals are authoritative throughout this driving musical force. And "Priest of the Unholy" has a classic Malmsteen sound and theme; he has managed to create an album which doesn't deviate too far from what fans expect of him yet while also maintaining a contemporary balance.
"Be Careful What You Wish For" pulsates with strength, thought provoking lyrics, and a guitar solo which shows off Malmsteen's stunning versatility of sounds. If any listeners ever had any reservations about Tim "Ripper" Owens taking over the vocal duties for Malmsteen -- not only is there nothing to fear but it's a perfect pairing, and this song proves it.
The instrumental, "Caprici di Diablo," is the guitar-playing extravaganza which Malmsteen fans adore. The greedy song-bird that he is, Malmsteen -- still unrivaled in this manner of playing -- takes speed guitar and demonstrates how it not only can be done, but should be. Not just a succession of notes whirling around a rhythm section, but a symphony somehow coming from one man -- one instrument.
"Lament" -- another instrumental and also quintessentially Malmsteen - is puissant and moody, beautiful and dangerous all at the same time.
Hands down, my favorite on this amazing collection of songs is "Magic City." An enchanting and truly dreamy metal ballad which features Malmsteen on lead vocals in addition to his guitar work. "Magic City" demonstrates Malmsteen's maturity as a song writer and performer, and one who just keeps getting better and better with each year past, and every album released.
Wrapping up the disc is "Eleventh Hour" with its metrical power, and "Heavy Heart" -- another instrumental, and this one a spell-binding ballad.
Perpetual Flame offers up almost 70 minutes of play time, a supernal assemblage of new material from one of the greatest guitarists ever; and this album -- absolutely one of the best of 2008.
Luckily for us, Yngwie Malmsteen isn't going anywhere, matter of fact; he's probably just getting warmed up.
---
RELATED LINKS