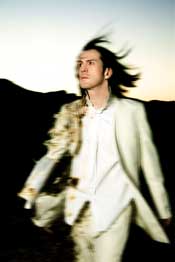 Nivek Ogre (real name Kevin Graham Ogilvie) born December 5, 1962 is the vocalist best known for his work in the industrial band Skinny Puppy. Ogre has been involved with many industrial music acts such as KMFDM, Rx, Pigface, PTP, the TearGarden, the RevoltingCocks, Ministry, and his side project ohGr. His recent activity has included being the focus of a young suicidal girl's memoir to the singer of her favorite band, Go Ask Ogre: Letters from a Deathrock Cutter by Jolene Siana and Bonnie McLaughlin. He can be seen in a movie, entitled Repo! The Genetic Opera, a rock opera-musical film directed by Darren Lynn Bousman, staring among other people Paris Hilton, In the midst of all of this work he found the time to finish up a world tour with the reformed Skinny Puppy and record his third full-length release for his side project ohGr, Devils In My Details. I spoke with him from his compound just outside of L.A. where more cats than dogs live on the 5 acre spread. These are the details of his music and touring experience; well at least what he can remember.
---
Jackie Lee King: So here's a silly question -- besides the Devil, who's into your details?
Ogre: Oh damn [laughs] you know, there are so many things I could say about that, but my details about it are far more shrouded in a veil of my own inconsistent living standards and things like that... I have more invisible maniacs in my details...I try to minimize the devils, including my own devils, and I have gotten them under control. They're packed away. It has taken eight months -- those guys are gone. But the invisible maniacs, they are pesky and really hard to get rid of. And those are my biggest details.
JLK: Are they cartoon characters like the Animaniacs?
O: They have no mass, they have no sound, they have, to my understanding, no vocalizations, but they are able to hide things...
JLK: Oh I hate that.
O: ...you know. Put things in the weirdest places. And switch things around in my head. They, like, have some way of disabling my own internal calendar. It seems to wrap up around this time like that...
JLK: In a recent interview you noted that being in the music industry, with all of the trials and tribulations, time just sneaks up on you.
O: Yup
JLK:It's just amazing that you still continue to do music.
O: Yeah I'm quite shocked by it, actually, considering where I came from. I came from probably the most outward-bound, non-musical background out of everybody in Skinny Puppy (SP), and I've been lucky enough to -- again I don't know how because looking back to that period of time when you're always doing the "what-ifs," of just constantly going, what am I going to do when I turn 40, and how will I make that work. When 25 looking at a 40-year-old, and there is still something daunting for me in a lot of ways, how do kids still attach [to me], I mean I'm turning 46...
JLK: How has the response been on the book Go Ask OhGr?
O: You know honestly, it isn't my book you should be asking the author...
JLK: True.
O: I sort of contributed to that in a very small sort of way, in the sense that I was at least for enough of the time able to hold on to that stuff --some of the few things I did hold onto [her letters] and I delivered something back and I think I acted as a conduit for her to kind of keep writing, keep being creative and get through something and that's really all I did... I hope it's well received -- it's a pretty-looking book and hopefully it will have some connection with people who have done that, that are cutters...
JLK: Right
O: ...and have that kind of ...where they're acting out like that. I think for me [the fear at the time] was not getting too involved in that situation because obviously -- I don't even play a psychiatrist on TV [laughs].
JLK: [laughs] Exactly
O: In a sense in me helping her out in a strange way, and not that it was necessarily a premeditated decision, but the fact that I was just kinda there as this thing she could recheck. She got one response back and then NO responses, I mean that was just kind of a thing. Had I kept engaging, it might have turned ugly in that way.
JLK: But I think it's important for them to read about that because it allows people a way back to reconnect with stuff, because they could see that other people were going through the same problem. It's not easy to stand up on a pedestal and say what you're doing is wrong -- it's a lot easier to say hey, this is what happened and I didn't get back to her for a long time, and, hopefully things worked out...I think that's a good catharsis.
O: It has a perverse connotation too, but music is being used to allow children to get through something, a stage in their life of rebellion, but in the same way, if there's empathy involved when somebody can feel something. No matter what, you are going to go through what you're going through, and if someone tells you to stop, especially at that age you would probably do it even more...it's that idea of handling someone through that period and just getting them through it. And I think that was the one thing I said to her was just that I'm going to hold on to these letters and I'll give them back to you in ten or fifteen years, and we'll have a laugh about it ...just what that was all about and in the same way rock and roll, and music, when kids individuate it is kind of what they're going through in this mini-process of their life, this pseudo-revolution. The problem I have with it, now, is that I almost feel like that's the gimmick within society, that's my purpose, to allow kids to have this stylized...
JLK: This release valve...
O: ...release valve to something, and then they filter and assimilate into...
JLK: Or an excuse, like, SP is this violent, gothic, industrial rock and I want to be like that. It almost seems like some of your supporters are using your message against you sometimes...
O: Well yeah, there's that and the idea that SP and all these things that are, in a way, forms of defense are allowed to exist in certain ways, powerful ways in not so threatening ways even - SP may seem threatening but still we're just a bunch of guys wearing makeup on stage...
JLK: Exactly
O: ...doing our thing and that becomes in a way a counterpoint to what would be seen in other countries as oppression. We have the freedom to ...I have issues with that right now as far as culture-shaping...and that goes way beyond what a kid is going through. And when I go back and read about what I was doing when I was 16/17 when I was listening to Joy Division...
JLK: Exactly, and then like when he [Ian Curtis] hangs himself on the verge of their American tour and then they become New Order...
O: ...it's so romantic, but there is a certain thing to be said about going through that and having those same feelings and knowing that someone was like that. You know maybe even at that time; I mean I don't even remember there being a lot of copy-cat suicides.
JLK: Right. What advice would you give yourself if ohGr, of say what age you are now, were to talk to 25 years ago...?
O: [in a British accent] A Harry Potter thing?
JLK: [laughs] Yeah
O: You want me to do a Harry Potter thing? I'm dying by the side of the lake by that monster sucking my soul and light comes out and it is me in the future [laughs]
JLK: [laughs] Something along those lines. So if you could give Kevin advice back when he was starting out, what advice would you give him?
O: Uh, It would definitely have been don't take things so seriously. And really, really, really work on not worrying about the what-ifs, and really, really focus on this is what it is right now. And I know that sounds so fuckin' grossly Buddhist [laughs]...
JLK: [laughs]
O: ...but it really is that idea that so many times in my past that I didn't enjoy the moment because I was so self-conscious. And I've just actually found a bit of clarity in a lot of ways...this tour for me I don't have the same stress level even going into it seemed complicated with the budget and everything we have in performing in smaller theaters.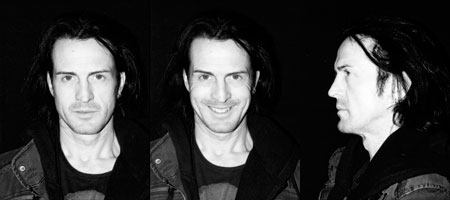 JLK: Yeah you sound pretty calm going into this, eh it will be fine. [laughs]
O: It's a lot of fun -- that's the thing. I actually have that feeling. I used to feign that before and kind of like have fun, but beneath there was this bubbling "Whoaaaa what if this happens." I've kind of learned, I think, over the years to embrace the mistakes.
JLK: Well yeah because of the accidents that happen on tour. I remember, I think in Bloomington, Indiana, there was a problem during the Too Dark Park [SP-1990] show with Stiltman [character ogre portrayed on stage] and I think you injured your leg at that show or something and a friend asked me 'Is he going to do it at Bogart's?' and we're like, 'We don't know...' [laughs]
O: [chuckles] will he get on the stilts again? Yeah, those things were insane. I saw some 16mm film that Jim Van Bebber shot...
JLK: Wow
O: ...um somewhere in Ohio and they all dropped acid?

[both laugh]

O: ...and shot this film and we finally did it for the DVD [for the Too Dark Park concert footage] that we just did and I cut it together, the stuff. But I was actually on these stilts and I was watching the kids in the front row, and there was no barrier, and they're all looking up in awe and looking up terrified because I'm on these ropes spinning around with these stilts, at times almost horizontal, whipping around in the air coming close to people's heads.
JLK: Or at least brushing their Mohawks. I remember at several of those shows it was like, 'oh he grazed him'.
O: Yeah it was just insane. I mean you could never do that kind of stuff now...
JLK: Any strange requests you've been asked when you are out on the road touring?
O: As far as requests go...the strangest request I've ever gotten was to, actually I was doing a thing with powder, I was blowing it out with compressed air, and I had a request to blow somebody's ashes out to the crowd. The guy was a SP fan, a huge fan, and [he had]overdosed and his wife wanted me to, honor his request I guess, so I did it [laughs].
JLK: Uh, did you want to say which show?
O: Yeah I think it was Jacksonville, oh wait [whispers "fuck"]. I think it was Jacksonville...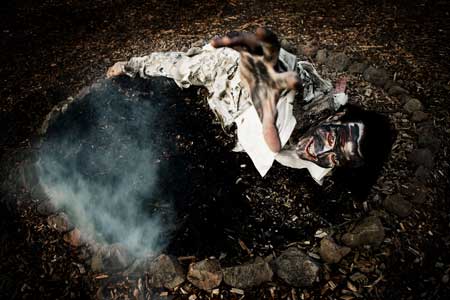 JLK: So what kind of thing, when you're on tour, is comfort for you? Like somebody might have a jacket, or shoes or favorite meal...
O: My dog. She came on the last tour, and no matter how I came off stage, when I saw her after the show, it just calmed me down. She's been the coolest thing. And the other great thing now is that my girlfriend is coming out with me, so I'm going to be fully in a comfort zone this time around. And the crew I have with me are all people I've worked with: Justin [Bennett] I've worked with on SP, Bill I've worked with forever, Bill Morrison did [the backing] video for back to Too Dark Park...
JLK: Wow, I remember that tour...
O: And he's done a lot of our videos and a great guitar player. My friend Jeff is with me, and our tour managers, they're all friends and family in a way. There are three women on the tour and so it's going to be a good cross-section.
JLK: So will the female presence keep the bus from being cluttered?
O: I don't really like the spilled beer and pizza on the counter in the morning, I'm anal that way -- I like a tidy bus. It's going to be a gas. And at this point, too, I'm really starting to accept the fact that all the things I used to feel I was tortured by, whether it was like having to do tours with shitty monitors in clubs and stuff like that, I'm just very through things. Like whatever, so here we go, I've got these shitty cans, big deal. Let's fucking do it.
JLK: Moving on to ohGr, how do you determine when it's time to do another project, where should you go back and do another SP album, or should you do some of the other groups that you've been with. Why this incarnation, and why now? For Devils In My Details...
O: Well, it happened out of a sense of urgency, actually. We had planned on doing a record but the concept of the record was, the original working title was Blurry dotted I's, had to do with this dog I was telling you about that I had found and was blind. ... the idea [was] that a lot of rescue animals when you first see them look like monsters, but with a bit of care this dog has turned out to be, I can't believe how beautiful, how incredible she is, how loyal and sweet...It just took a bit of care, a change in diet or simple things like that, and a lot of these animals are euthanized right away. So it was going to be that direction and then something happened in my life that was very profound and had a huge affect on me personally, and at that point everything had shifted. And we started in a therapeutic way kind of working on the idea like jamming to find a direction, find a picture and pulling stuff off the internet to find stuff. This was starting to turn into more of a concept and it became something that, had I not had someone like Mark Walk to work with, I wouldn't have kind of transcended what I feel I've done in the past in a lot of ways and have come really close to actually bringing the experience I had to life, in a lot of ways. For myself, anyway, and hopefully for the listener because and was a lot of fun to do. This album was more out of a sense of urgency.
JLK: How did you start working with Mark Walk? It's just interesting that there is this whole, stable of people that you can work with like William Morrison, Tim [skold] and cEvin Key, why Mark for this particular project?
O: Well Mark first heard of me on a Pigface track he was working on as an engineer and producer with Martin [Atkins] on Notes from the Underground. And Martin came in and was working a bit a short time in The Process [SP-1996] down in Malibu, and Mark came down because he had the first kind of pro-tools rig and he was really good on that...
JLK...oh you could just spend years of your life on pro-tools [laughs] so much fun, you're like, and I'll track this a million times...
O: ...I know. It really is. There is so much you can do with it, and he's gone way beyond that obviously now, but he was just kind of that guy and he's the first person I'd met in that type of arrangement where I could easily, well at that time, I was telling you I was given a pretty nervous mess and he was able to connect it in the studio. He actually changed the whole way I sang. In the way that I always sang with effects and a voice and character that was created thirty-five years back, but he got me to sing with dry vocals and that's what became our relationship. We had a close friendship to that and it fit well with the chaos that was SP...
JLK: Well it was kind of evident during The Process because that was one of the first times I was like, wait, there's no effects on his voice....
O: Right, exactly. It was a bit tentative, and I know you can hear the fragility of it. It was riding a line, and he actually, when I went up and started working with him in Seattle in '95 kind of before The Process came out, he kind of pushed me into doing some work with my voice. Because I was terrified I'd just fucked my voice up -- I'd lost my voice so much during shows and he got me this guy named the Maestro who worked with Heart and the guy from, fuckin', Man in the box...
JLK:Alice in Chains; Layne [Staley]
O: Yeah he worked with Layne. And he was a great fuckin' baritone singer, 85 years old, and he gave me a lot of strength of voice. So that's really how our friendship started, and kept progressing.
JLK: What is your writing process, when you go into this project?
O: Mark and I live really close to each other, and the last three ohGr recordings have basically been done in a home studio setting because we're confident enough to be able to do all aspects of the recording project pretty much anywhere. [laugh] Because we're not dealing with, you know were not doing a Tori Amos record or something that needs those kinds of dynamics. There's more of a compact sound, especially with this recording, and so we had some ideas going into it, and last December when I came back from doing the movie I had some ideas, but they kind of changed, and they always change. Mark and I had a difference when writing with SP and ohGr is that Mark and I tend to abstract things a little more except in this recording we definitely worked in the opposite way, building them on Pro-tools and actually working out musical transitions instead of writing songs and sequencing them afterwards...
JLK: Yeah it does. It seems like it's a beginning/middle/ending. It has a story
O: It really does, and that's how we differ from SP, a lot of it was based around the vocal and that is what differentiates the writing styles between ohGr and SP, in SP we found the best way after doing [the wrong or the right] and working ...Kevin would come to us with fairly almost completed tracks in a lot of ways and Mark's able to tighten up arrangements ...so the best thing to do is try to do all that with a semblance of Kevin's arrangements and then add a vocal. SP has always been really about the vocal isn't so much the center point, the affectation it has been. At times it has been more of a sampling ... it's just been a lot easier to write to Kevin's music as opposed to trying to write a vocal and have Kevin write...
JLK: How did Bill Moseley get involved with the project, because I noticed that he had done spoken word on a lot of the tracks?
O: I met Bill when I was up in Toronto doing Repo! The Genetic Opera film. We obviously connected, like we're brothers and he was kind enough to spend time with me and share a lot of his techniques and wisdom about acting. And we ended up hanging out a bit and connected, and he actually presented me a poem one day when my girlfriend had come up and it was a poem about the two of us, and her, and his observations and it was just witty, and dark -- dark as hell. [laughs] and I was like, that's awesome. And so we continued to talk and I mentioned him doing this and we were in the last stages of, we kept meeting during the repo stuff. And we started hiking a bit out here, and In the last stages of the Repo thing he just came in and I asked him to come in and he brought four pieces of poetry that he had picked out, and did them all basically in one take, which just blew me away. He would just ask for a character I said well, do it like this, and he just went off like ten-times what I thought it should be, and a great direction and created these characters. And it created this layer to the music and took it to a different level. I'm very thankful for him because he intuitively connected with it and did something that I had wanted to do, not just use found vocal samples, but take someone reading their own poetry and weaving it in; it just worked out so perfectly. So, it was a gift. It was one of those things that through the Repo thing, it begat that, and I hope it will be something that will continue on because I would certainly like to work with him again.
JLK: Right. Because it was funny I was talking about it with a friend and they're an old SP fan and they were like, there was that whole thing about what sample did they use from what movie, and then we were listening to Devils in My Details and it was like 'ooh I know that movie' and I was like 'are you sure that was a sample?'
O: That's great. [laughs] That's a funny reaction; that makes me giggle. That's good.
JLK: Yeah, we were like 'ooh what's the sample in Far Too Frail or God's Gift Maggot' and all this stuff, I mean we determined it was a bunch of Hitchcock movies, a long time ago. [They laugh] There's a website out there, stating 'this song has this sample from this movie'...people have no life -- they just sort of sit around and they do that.
O: There's a lot of that. You know, I mean I appreciate that... I actually have a brother who's a doctor who, that's his life. He has scrapbooks that go back to the '50s, he's had 6 VCRs that he recorded TV series and catalogued them all. He has vinyl going back to the '50s, '40s, and '30s. He has all the Billboard charts. It's insane.
JLK: [laughs] That does sound insane.
O: And on top of that, it's pristine; every scrapbook from the '50s is pristine. You can open it up and smell the cereal that was in the box from whatever picture he cut off ...
JLK: You mean you're allowed to touch them?
O: Only after I washed my hands and the original Dell Uncle Scrooges are definitely off-limits.
JLK: What kinds of artists have influenced you?
O: Brian Eno has been my staple for years. The weirdest thing is the ambient records. Whenever I listen to music from films, I can literally go back through a picture book of five different periods in my life, where I was, on a certain day... in Vancouver, in a rainy room...
JLK: Listening to Devils in the Details, I was thinking 'I wonder if he knows any Brian Eno...'
O: Well there was that throw out to that, obviously, in white sand, and I mean I love all that quirky pop records, right back to one of my favorite guitar solos from babies on fire ...that's something that's hard for me to talk to with the kids now, they're like 'who?' and then you go 'well you know U2, right?' yeah.' He's one of my all-time heroes I listen to and that segues into more things, like I'm a huge Syd Barrett [Pink Floyd] fan. I like the more character-driven people in a lot of ways. I think I'm a more modern act because I would have to say I would buy anything from, because I've loved all their stuff, even their last record, would probably be Boards of Canada, or chill music and driving music, and I just adore Amy Winehouse. She's the shit. [laughs] She's just got it going on, you know, when you listen to her voice, you just can't help but feel the soul. No matter how fucked-up she is, you just can't knock her voice. It blows me away.
JLK: You don't have any Spice Girls albums in your catalogue or anything embarrassing?
O: Well, let's see, embarrassing. I'm sure I have tons of embarrassing stuff. I mean, I like Goodbye Horses, I love that song. I love Orchestral Maneuvers in the Dark...
JLK: Oh they were great!We are both kids of the 80s, I mean we had tons of music, just thrown at us, like Romeo Void...
O: Ok here's one [sings] 'kiss me, kiss me...' by Kajagoogoo...
JLK: Oooh there were two songs, Too Shy by kajagoogoo...
O: Ok it wasn't that one, it was [sings] 'your love is sweeter than wine...'
JLK: Oooh I know that song... [Authors Note: Actually, I wasn't sure I wanted to remember the song.]
O: [sings more] OOH I HATE IT! Now you did it to me, damnit! [laughs] Now I have to go wash my mouth out...
JLK: Hey, you're the one who did it; I just put you at that cliff and nudged ya.
O: [laughs]
JLK: So who would you say is your main influence?
O: Honestly, I was a huge Floyd fan growing up, and I think one of the most influential concept records for me was [PinkFloyd] The Wall. Goodbye, Blue Sky still makes me cry. The guitar-work by [David] Gilmore is outstanding; he makes the guitar sing. So there's that side of my childhood, I think when I really go back, that and Joy Division a lot of that crispy ambience, even a lot of the 4AD [Record Label] stuff.
JLK:Love Will Tear Us Apart? [Joy Division]
O: Yeah all that stuff. Early Cure, Pornography was a transformative record for me totally. I love that record. I fuckin' loved it -- and it got panned because it was too plodding. But for me it was like [ecstatic sigh] yeah that's the fuckin' shit.
JLK: [laughs]
O: And then it goes back to things like Kraftwerk, Autobahn, and another dirty pleasure, going back to K-Tel records...
JLK: Oh yeah. I've got Hit Explosion.
O: Yeah, this one called Popcorn [sings]
JLK: All those K-Tel albums are guilty pleasures. I still have, like, 10 of them that I've picked up from garage sales; they're just hysterical. Like Time Passages by Al Stewart next to Golden Earring's, Radar Love...
O: I used to get those albums for Christmas and I just loved them. And that gets across the idea there is history to listening to music. I'm not sure what they have for kids now, since I'm not a kid, but it seems like when you're listening to albums it's a whole different experience than it is now.
JLK: Yeah I remember listening to those K-Tel albums and thinking, oh I like all these songs -- it wasn't like one niche of music; like Pop. It was...
O: It was all over, which was great. It was good programming back then. A different kind of programming. I mean everything's gotten a lot more diverse now, and that's great. But now even with the diversity of music, with Clear Channel and Live Nation, it's sad. I have a memory of a Kid's Record that was chilling to me. It was a Christmas record, the story of the Christmas tree and how they go and cut it in half and bring it home, and there was that CHOP CHOP. And then the pine needles bristled, and shook and felt a tingled (CHOP CHOP) [makes crackling noises]. It was terrifying! I was like, NO!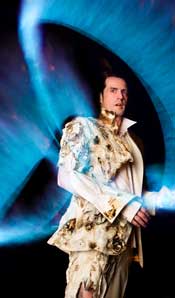 JLK: Do you think you should do a Christmas album? An OhGr Christmas Carol or something like that?
O: No, but I do want to, I have this notion in the back of my head, I have this writer screaming to get out, though I don't think I'd be capable or allowed to write a book or anything until after I turn 50 [laughs].
JLK: Ooh come on, people do it all the time...
O: I know, but I just think, I read that somewhere and I agree with it for me, since I'm kind of immature, but the one thing I'd love to write is a kid's book. I have a few ideas, and I have a few outlines for things...when I get to a point in my life where I feel that's an appropriate thing to do I'm going to definitely take a shot at that. Just for myself.
JLK: Well good for you! So that will be my thing for four years from now? I'll call you up and say, have you written the kids book yet?
O: Right after I turn 50. [they laugh]
JLK: Is there anything else you'd like to say to people?
O: I think that I've been lucky that, I couldn't do this without the listeners and have always been very appreciative of that. I can't help but always comment on that -- if I didn't have people like yourself for example, that write about this, or if I didn't have the fans that we've had over the years, which have been very loyal and very cult-driven, not in any sort of negative connotation... Very loyal, and have been almost cross-generational. If we didn't have that we wouldn't exist. And I think the one thing about music and about art, especially in this climate, and what we've come out of which is been kind of the dark ages, is that it's really up to people to determine what they want, and it is them who brought up who we are...and that's a great kick for me. I obviously could do this if there's nobody coming out to the shows or listen to the music. In a sense art doesn't exist without an audience...
JLK: It does...art exists out of its own volition whether or not we recognize it -- that's something else
O: But then you are seeing it, you are an audience...I'm just saying it doesn't work in a vacuum. It can be therapeutic, don't get me wrong, but I'm just saying within the context of what I'm doing, which is whatever it is, it works for me on a therapeutic level and somehow I've connected with an audience and have been able to take something that I've practiced since a little boy, writing poetry and writing words down in strange ways and strange combinations. Sometimes not grammatically correct, sometimes not even spelled the right way...
JLK: Oh it doesn't matter... [laugh]
O: And that's something I've been able to do -- somehow find a path in life, and it's a huge gift. And it's all as a result of the people who listen to it. So thank you!
---
RELATED LINKS