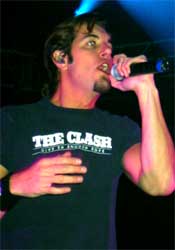 311 once again announce they will be taking to the road this fall and winter, to help promote their newest release, Uplifter. The fans are psyched to hear the energetic, positive songs that 311 continue to pump out and play live, because they do it with all their heart and soul year after year!
The guys of 311 will take their fall and winter tour all they way from Tokyo, Japan, to Chicago, to a couple of stops in Texas, for a total of 21 shows in a matter of a few months. The stop in Tokyo will take place at the end of September then the majority of the tour will start at the beginning of November. Opening acts include State Radio, Kottonmouth Kings and Slightly Stoopid.
Their 9th studio album, Uplifter - which debuted at #3 on the Billboard top 200 Albums Chart - is still being heard on radio stations around the country and is continuing to corral new fans of 311's sound.
While 3-11 day (March 11) sounds like it is for sure happening again at the beginning of 2010, it will not be happening in New Orleans because of prior engagements by the city. Stay tuned to see where this amazing event will take place next year. If you are a big fan of 311's, this is a spectacle not to be missed!
Nick, SA, P-Nut, Tim and Chad... look forward to seeing you guys out on tour, and can't wait to hear the Uplifter tunes live!
Be sure to check http://www.311.com/Shows for all the latest tour updates.
Tour Dates and Locations:
9/26/09 - Tokyo, Japan
11/11 - Temecula, CA
11/13 - Loveland, CO
11/14 - Omaha, NE
11/15 - Kansas City, MO
11/17 - Minneapolis, MN
11/18 - Chicago, IL
11/19 - Detroit, MI
11/21 - Atlantic City, NJ
11/22 - Uncasville, CT
11/24 - Poughkeepsie, NY
11/25 - Portland, ME
11/27 - New York City, NY
11/28 - New York City, NY
11/29 - Richmond, VA
12/01 - Miami, FL
12/02 - Orlando, FL
12/04 - New Orleans, LA
12/05 - Dallas, TX
12/06 - Houston, TX
12/08 - Austin, TX
---
RELATED LINKS